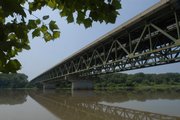 Related document

KDOT: Structurally Deficient/Functionally Obsolete Structures (Includes list of Douglas County structures considered deficient) ( .PDF )
Related document

KDOT State Bridge Inventory ( .PDF )
Topeka — State officials said Friday they will review inspection reports of Kansas' six deck truss bridges, which is the same type of bridge that collapsed in Minneapolis.
"The review of reports will allow us to consider whether we should make changes to our inspection schedule," said Kansas Department of Transportation Secretary Deb Miller.
Miller said the review was in response to U.S. Transportation Secretary Mary Peters' request that all such bridges in the nation be inspected. At least five people were killed and 110 injured when the Interstate 35W bridge in Minneapolis plummeted into the Mississippi River on Wednesday.
Miller has expressed confidence that Kansas bridges are safe.
"Our bridge inspections are rigorous and our data is current and sound. The Kansas bridge system ranks among the best in the country and I want all travelers to feel safe and confident when they use our highways," Miller said.
Her comments came one day after she said there was no need to increase inspections of the 5,000 bridges in the state highway system. She said 541 of those bridges were deemed deficient but were safe to travel on.
There are six deck truss bridges in Kansas; five are in the Kansas City area and the sixth is in Atchison.
All of those bridges have been inspected within the past year and deemed safe, Miller said. Three of the bridges, components of the Interstate 70 intercity viaduct in Kansas City, Kan. will receive their annual inspections starting the week of Aug. 13 as previously had been scheduled. The other bridges are scheduled to be inspected in late summer and fall.
Earlier Friday, Gov. Kathleen Sebelius expressed confidence in the state bridges.
"Kansas at this point seems to be well ahead of curve," Sebelius said.
There are 26,000 bridges in Kansas, including state, local and turnpike structures. And approximately 21 percent of those are considered either structurally deficient or functionally obsolete, Miller said. KDOT released its full inventories today (left).
Functionally obsolete usually means the bridge is more narrow than modern standards. A structurally deficient bridge doesn't mean its unsafe, she said. It means the bridge must be monitored closely.
The state highway system includes 5,000 bridges and about 10 percent -- or 541 -- of those are considered deficient, with most of those being designated functionally obsolete, she said.
Copyright 2018 The Lawrence Journal-World. All rights reserved. This material may not be published, broadcast, rewritten or redistributed. We strive to uphold our values for every story published.