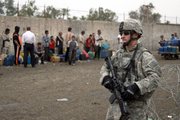 U.S. deaths
As of Friday, at least 3,337 members of the U.S. military have died since the beginning of the Iraq war in March 2003, according to an Associated Press count.
Baghdad, Iraq — Many Sunnis on Friday welcomed a U.S. congressional push to begin withdrawing U.S. troops by Oct. 1, but one Shiite grocery store owner expressed fear the move would "leave Iraq in the hands of al-Qaida."
Iraqis appeared divided along sectarian lines over Thursday's Senate approval of House-passed legislation calling for U.S. troops to begin leaving Iraq by Oct. 1. President Bush pledged to veto the measure and neither body passed the measure with enough votes to override him.
A 42-year-old Sunni teacher in Baghdad said the idea had his full support, but he doubted it would happen.
"I think that yesterday's vote and the threats by Bush to use the veto are nothing but political games played in Washington and we have been paying the price for these games since 2003. In fact, I see no U.S. withdrawal on the horizon," Assad Yassin said.
Majority Shiites and their Kurdish allies, meanwhile, echoed the opinion of the Shiite-led government, which warned the Oct. 1 start date was too soon.
Government spokesman Ali al-Dabbagh also warned that the congressional decision "sends wrong signals" to militants.
Kamil Nassir, a 40-year-old Shiite who owns a grocery store in Baghdad, agreed and said he was hopeful it would be stopped.
"I do not think that the United States that has sacrificed thousands of soldiers and hundreds of billions of dollars is ready to leave Iraq," he said. "Whether Democrats or Republicans, the U.S. politicians are not ready to leave Iraq in the hands of al-Qaida. U.S. withdrawal will mean victory to al-Qaida and more problems for the Americans."
Many minority Sunnis have long opposed the U.S.-led invasion in March 2003, which ended Saddam Hussein's mostly Sunni government and cleared the way for majority Shiites and minority Kurds to dominate government.
Friday's public reaction to the congressional vote was mixed along sectarian lines.
"This is a wrong move by the Democrats," said Muhei Hadi, Shiite municipal counselor in Baghdad. "The U.S. forces must stay in Iraq until Iraqi forces are really qualified to face terrorists. I hope that Bush will use his veto."
In Basra, Shiite police Col. Karim Sadkhan said he thinks a quick U.S. military withdrawal "will encourage the terrorists to wage more attacks and killings."
Wisam Abdullah, 28, a Sunni restaurant owner in Basra, said: "All Iraqis want the U.S. Army to leave our country."
But in Basra, where Shiite militias are competing for influence as British troops prepare to begin leaving the area, even Abdullah seemed worried.
"I do not think that now is the best time to ask for the U.S. withdrawal," he said.
As Iraqis pondered their future, the U.S. military said three U.S. Marines were killed Thursday in fighting in Anbar province, a Sunni insurgent stronghold west of Baghdad.
At least 19 people were reported killed or found dead by police, including 16 bullet-riddled bodies: seven in Baghdad, six pulled from the Tigris River south of the capital, and three in the northeastern city of Baqouba.
A roadside bomb killed a civilian after missing its target of a police patrol in the northern city of Mosul, and a human rights activist was shot to death in Kirkuk, police said. A mortar attack also killed a Shiite man and wounded another in Nahrawan, east of Baghdad.
Authorities have sought to curb the violence on Fridays by imposing a weekly four-hour driving ban in Baghdad to protect prayer services on the Islamic day of rest.
U.S.-led forces also staged a series of raids, capturing nine suspected insurgents who were linked to al-Qaida in Iraq - five in the northern city of Mosul, one near Salman Pak southeast of Baghdad, one in the capital and two near Ramadi.
Four suspected members of a cell believed to be smuggling sophisticated roadside bombs known as explosively formed penetrators, or EFPs, from Iran also were captured during a raid in the Shiite militia stronghold of Sadr City, the military said.
Copyright 2018 The Associated Press. All rights reserved. This material may not be published, broadcast, rewritten or redistributed. We strive to uphold our values for every story published.