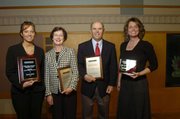 The Lawrence Chamber of Commerce honored two recently retired public officials, an agency director and a young professional with awards during a breakfast reception Friday at the Kansas Union.
The annual awards - for public service, leadership and volunteer service - were part of the 1,200-member organization's celebration of its latest class of Leadership Lawrence graduates. About 250 people attended the event in the Ballroom at the union.
Winners of this year's Buford M. Watson Jr. Public Service Award were Fred DeVictor, who recently retired as the city's director of parks and recreation, and Kay Kent, who recently retired as director of the Lawrence-Douglas County Health Department.
DeVictor - the first employee hired by Watson, Lawrence's city manager from 1970 to 1989 - was lauded by current City Manager David Corliss as an "architect of building a better Lawrence" through stewardship of a department that has expanded along with community needs.
"He was a real mentor for me," DeVictor said, of Watson. "Thank you very much for this honor."
Kent spent 33 years at the health department, which provides immunizations, oversees environmental health inspections, monitors communicable diseases and guides public response to health emergencies.
"I have a tremendous commitment to public service," Kent said. "It's really what our whole family - my husband and I - are really committed to, and so it's a particular honor to receive this award."
Janet Murphy, executive director of the Boys & Girls Club, received the Don Volker Leadership Award. She has been the club's top administrator for the past eight years, starting when the agency had one location, 150 kids and a $134,000 budget.
Today the club boasts 12 locations, 1,200 kids and an annual budget of $1.1 million.
Murphy credited Sarah Magnuson, her reading teacher at Central Junior High School, for guiding her through a turbulent time and onto a path toward success.
"Every child in Lawrence needs their Mrs. Magnuson - whether it's the teacher, a Boys & Girls Club staff (member) or a grandfather that takes them fishing," Murphy said. "They need to feel safe, have hope and be given an opportunity to succeed."
Jandi Smith, business account manager for Sunflower Broadband and chairwoman of the chamber's Young Professionals Network, received the Wally Galluzzi Chamber Volunteer of the Year Award.
Joan Golden, chamber chairwoman, acknowledged Smith as the "go-to person" for rounding up chamber volunteers, and recognized her for branching out into other community services.
"Believe me, I have received much more than I have given," Smith said. "Working with the Young Professionals has led me to help out with the United Way drive, the Ballard Center, the Salvation Army and other organizations within our community. : Being a young professional proves that one person can make a difference in their community."
Copyright 2018 The Lawrence Journal-World. All rights reserved. This material may not be published, broadcast, rewritten or redistributed. We strive to uphold our values for every story published.