Chicago — Authorities arrested an Iowa machinist Wednesday who they say sent pipe bombs to two investment firms in an effort to drive up stock prices in two small companies he had invested in. Authorities said the bombs, which would have been live had a single wire been connected, came with threatening letters signed "The Bishop."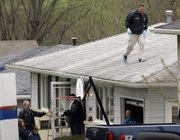 John P. Tomkins, 42, a former part-time postal carrier from Dubuque, Iowa, was arrested on his way to work, and federal agents began searching his home and a storage facility, according to the U.S. attorney's office in Chicago.
Authorities said they searched for months for the identity of "The Bishop" before Securities and Exchange Commission experts pinpointed Tomkins because of his ownership of a combination of stocks and other securities in Navarre Corp. and 3COM Corp. Investigators also said a car in a photograph sent in one of the packages fit the type Tomkins drives, and that his handwriting matched that on some of the envelopes.
Tomkins, a husky man with a mop of dark hair and a mustache, appeared briefly Wednesday afternoon before U.S. Magistrate Judge Sidney I. Schenkier, who ordered him held pending a bond hearing Monday afternoon. Assistant U.S. Attorney Mark E. Schneider said the government wants Tomkins locked up pending trial as a flight risk and danger to the community.
Tomkins, a married father of three, said little aside from acknowledging to the judge that he was aware of his rights. His federal defender, Rose Lindsay, declined to comment, and a telephone message left at a number listed for a John Tomkins in Dubuque wasn't immediately returned.
Investigators have said "The Bishop" mailed more than a dozen letters to financial institutions for 18 months, threatening to harm the recipients and those close to them if the prices of certain stocks did not move to certain levels, often $6.66; the number '666' is associated with Satan. Some of the letters cited the Unabomber and sniper Lee Boyd Malvo and included references to heaven and hell.
"The way I see it, you owe it to us to make things right or I will make your life as miserable as mine is," one of the letters read.
A criminal complaint unsealed in Chicago charged Tomkins with one count of mailing a threatening communication with intent to extort, which carries a maximum 20-year prison sentence, and one count of possession of an unregistered explosive device, punishable by up to 10 years.
Tomkins left the Postal Service as a one-day-a-week, fill-in letter carrier last year, before the devices were sent, authorities said.
An affidavit filed by postal inspectors said two parcels containing bombs were mailed Jan. 26 from Rolling Meadows, in Chicago's northwest suburbs.
"There is enough gunpowder and steel shot in that tube to kill anyone in a 10-foot radius when it goes off," the sender wrote.
One was addressed to a person at Janus Small Cap, a mutual fund, at an address in Denver, officials said. That parcel was forwarded to an office in Chicago. Investigators said the other package was addressed to someone at American Century Investments in Kansas City, Mo.
Each letter contained what appeared to be a booby-trapped pipe bomb, officials said. They said the firing circuit was not fully connected, otherwise the devices would have exploded, sending out a potentially fatal spray of fragments.
A letter in each parcel said: "BANG!! YOU'RE DEAD," authorities said.
One letter demanded a rally in the price of New Hope, Minn.-based Navarre's stock and the other in share prices of 3COM, a networking hardware and software company.
The affidavit describes 16 other letters signed "The Bishop."
Exactly why the letters were signed "The Bishop" was not clear, authorities said.
One theory was that Tomkins was inspired by a Charles Bronson movie, "The Mechanic," in which Bronson played an assassin named Arthur Bishop, who leaves a note reading, "Bang, you're dead." Federal officials, however, indicated they had no evidence to suggest Tomkins was mimicking the movie.
Neighbor Don Stedman described Tomkins and his children as a pleasant middle American family.
Copyright 2018 The Associated Press. All rights reserved. This material may not be published, broadcast, rewritten or redistributed. We strive to uphold our values for every story published.