At 5 p.m. Friday, Michael Wooden will close his furniture store in Perry for the last time.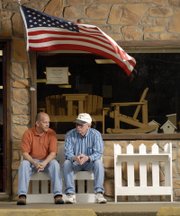 The store has become a victim of the closing of the Kansas River bridge at Lecompton, he said.
"It's been really unusually slow in this town," said Wooden, who opened Wooden's Outdoor Furniture store in 2005. "I had a large customer base coming in from Lecompton and the Lawrence area, but since we're not a necessity store, this isn't a place you have to come to."
The bridge, a link between Lecompton and Perry, was closed March 12. Douglas County commissioners decided to close the bridge to expedite its reconstruction. Jefferson County commissioners initially opposed the bridge closing and favored keeping it open to one lane. But last fall's election led to a change in the commission lineup and Jefferson County voted to support Douglas County in the closing.
The contract with A.M. Cohron & Son Inc. for redecking the bridge calls for an Aug. 10 completion, so the start of school in the Perry-Lecompton district won't be disrupted. Douglas County offered incentives - up to $10,000 per day up to 15 days - for early completion.
The project is on schedule, said Mike Perkins, operations manager for the Douglas County Public Works Department.
Wooden, who specializes in making Adirondacks furniture, will continue to work and sell from his home, but the store won't reopen.
While the Lecompton bridge will be closed for at least three more months, another key bridge at the northern edge of Lawrence has reopened. The Kasold Drive bridge over the Kansas Turnpike was reconstructed to make it long enough to cover widening of the turnpike to six lanes.
But motorists have to take a detour to get to it because Kasold south of the bridge to Peterson Road is being reconstructed. That project is expected to continue until October, said Dena Mezger, assistant public works director for the city of Lawrence.
The detour to the bridge is on Monterey Way and Grand Vista Drive.
Copyright 2018 The Lawrence Journal-World. All rights reserved. This material may not be published, broadcast, rewritten or redistributed. We strive to uphold our values for every story published.