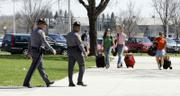 Blacksburg, Va. — Still grieving and increasingly wary of the media spotlight, Virginia Tech students returned to their beleaguered campus Sunday, preparing to salvage the final weeks of a semester eclipsed by violence.
The scene on campus resembled move-in day in late summer, with parents helping their children carry suitcases into dormitories. There were tears and hugs goodbye. But instead of excitement for the year ahead, there was simply determination to endure and regroup in the fall.
When classes resume today the university will give students three choices: They can continue their studies through the end of the semester next week, take a grade based on what they have done so far, or withdraw from a course without penalty.
"I want to go back. It's just really strange to just stop going," said Paul Deyerle, a sophomore from Roanoke who was helping a friend move belongings from the dormitory where another close friend, Ryan Clark, was among those killed in the worst shooting massacre in modern U.S. history.
A number of students living in West Ambler Johnston Hall have asked to be relocated elsewhere.
"I need to keep going back," Deyerle said, struggling for words. "It seems like every other facet of my life is different now, so I have to."
A number of students said they had been drawn to the comforts of home immediately after the shooting, but now were drawn back to the tight-knit Virginia Tech community.
"When we hit (Route) 460 and we could see the campus, we both started crying," said sophomore Ashleigh Shifflett, eating a picnic lunch with her sister Regan near memorials to the victims on the central campus lawn. "I was happy to see my family, but I felt like I needed to be here, and when I came back here, it was like I'm home."
Virginia Tech officials say their top priority is the victims' families, and they have given each of them a private e-mail address and direct phone number for President Charles Steger.
"I don't know what else you could do," said John Rossi, chairman of the math department. "A student, I don't know how much they're going to be able to learn at this point. Maybe some can. But I think some students are just not going to be able to come, so why would you penalize them? There's going to be some faculty dealing with that, too."
Freshman Brittany Gambardella, who was asleep in West Ambler Johnston when the rampage began two floors below, was not sure what, if any, work she would be doing the rest of the year. But that wasn't why she returned to campus from her home in Midlothian.
"I want to be back this week even if I don't take my exams, just to be with people," Gambardella said. "Then you go home, and you end the year on a good note."
State police plan to maintain a security presence on campus at least through today.
Students say they welcome the outpouring of support they have received, but they have grown weary of the news media. The Student Government Association asked reporters to leave by the start of classes today.
Copyright 2018 The Associated Press. All rights reserved. This material may not be published, broadcast, rewritten or redistributed. We strive to uphold our values for every story published.