Kansas City, Mo. — Jorge De La Rosa got into a groove after working out of a jam in the first inning.
De La Rosa pitched a career-high eight innings Sunday and retired 16 in a row during one stretch to lead Kansas City to a 3-1 victory over the Minnesota Twins, helping the Royals win their first series of the year.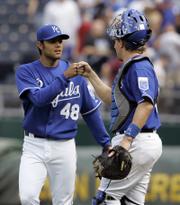 De La Rosa (2-1) worked out of a bases-loaded, one-out jam in the first, striking out Justin Morneau with a curveball and getting Torii Hunter to fly out to the warning track in center to end the inning.
"I thought that was the biggest out of the game," De La Rosa said of striking out Morneau.
The Twins did not get another base runner until the sixth.
"No doubt that was a huge moment," Royals catcher John Buck said. "A couple of games past, it seems like we came out of that the other way. That was a crucial point, and it happened to be in the first. Maybe he fed off of that. Whatever he had going, I like it. I'd like to see more of it."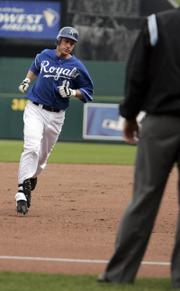 De La Rosa allowed five hits, struck out four and walked one. He entered the game 0-3 with a 7.02 ERA in five career outings, including three starts, against the Twins.
"After the first inning he was as good as anybody we saw this year for us or against us," Royals manager Buddy Bell said. "He pitched outstanding."
Mike Sweeney went 3-for-4 for Kansas City, and Ross Gload hit a two-run home run in the third, his first of the season.
"I took one good swing today and got us two runs, and De La Rosa pitched great," Gload said.
De La Rosa retired 16 in a row after the Twins loaded the bases in the first. Joe Mauer, who went 2-for-4 to raise his average to .393, singled with two outs in the sixth, went to second on a passed ball charged to Buck and scored on Michael Cuddyer's double down the left-field line.
"We had a chance to get to him in the first inning with the bases loaded, but after that not much out there," Twins manager Ron Gardenhire said. "He was starting guys off with fastballs and changeups. After the first inning, he got into a nice little groove. His changeup got better as the game went along. His fastball was jumping out of his hand. You could see his confidence growing."
Ramon Ortiz (3-1) limited the Royals to seven hits and three runs over seven innings.
"Gload hit a good pitch, a changeup, but he hit it," Ortiz said. "Everything was working, my fastball and my slider down and away. It was nothing different from my previous starts. Sometimes you win, sometimes you lose."
Gload homered to center on a 1-1 pitch from Ortiz with Tony Pena Jr. aboard in the third. Sweeney's two-out single in the fifth scored Esteban German, who led off the inning with a double.
Rookie Joakim Soria, a Rule 5 pick from San Diego, worked the ninth to pick up his second save in as many opportunities.
Notes: CF David DeJesus was a late scratch from the Royals lineup with a sore left ankle, which he hurt on Saturday. ... RHP Brian Bannister will make his first start for the Royals on Tuesday against the Chicago White Sox. He went 2-1 with a 2.61 ERA with Triple-A Omaha. Bannister will replace right-hander Brandon Duckworth in the rotation. Duckworth, who was 0-1 with a 1.59 ERA in two starts, will move to the bullpen. "From all the reports we've gotten, Bannister's been throwing good," Bell said. "We're putting Ducky in the bullpen just to give us a little more experience down there. We're really young in the bullpen, so it just made sense." ... Twins 2B Luis Castillo missed the series with a sore quadriceps.
Copyright 2018 The Associated Press. All rights reserved. This material may not be published, broadcast, rewritten or redistributed. We strive to uphold our values for every story published.