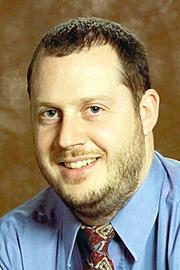 A California company that makes containers for storing and dispensing liquids ranging from fuels to medicines is getting some help tracking its products by using technology developed at Kansas University.
Container Technology Inc., of Santa Barbara, Calif., is licensing the KU-Tag, a radio frequency identification system developed through the Information and Telecommunication Technology Center at KU. Another licensing agreement also is in the works with a company in the Kansas City area.
Proceeds both will help address a critical need in the container industry and pump additional money into ITTC, which will use the money to finance additional research.
"It's substantial," said Keith Braman, the center's associate director for intellectual property, in an interview last month. "This has a potential to be, for the terms of the agreements, several million dollars."
RFID systems are used to track inventory by identifying tagged items through radio communication between electronic readers and tags that contain data on microchips. Such systems are used widely for tracking dry goods, but liquids and their containers have proven more problematic.
Certain radio frequencies are obstructed in such conditions, as metals block radio waves and liquids absorb them.
The KU-Tag, specifically designed to function in such conditions, solves this problem with four patent-pending technologies developed by Dan Deavours, an ITTC research assistant professor. The tag system incorporates foil and plastic to keep the tag's antenna isolated from metal or fluid, therefore extending the range for reading.
An estimated 1.7 billion RFID tags will be sold worldwide this year, for a total of $4.96 billion, according to IDTechEx Ltd., a consulting firm. In 10 years the market is projected to reach $27.88 billion.
Deavours confirmed the shortcomings of existing RFID systems during testing. So he came up with the KU-Tag, which he said works anywhere from 20 percent to 80 percent better than other tags used with metals and liquid.
"Container Technology's customers need to track containers and the material in those containers," Deavours said, in a statement. "RFID makes that practically automatic. The KU-Tag gives them all the performance they need."
Copyright 2018 The Lawrence Journal-World. All rights reserved. This material may not be published, broadcast, rewritten or redistributed. We strive to uphold our values for every story published.