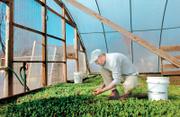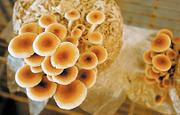 Vicki Douglas has a hard time choosing a favorite type of fruit or vegetable from the Rolling Prairie Farmers Alliance.
"I probably like the spring produce the best - the young lettuce and greens, asparagus and radishes," the Lawrence resident said. "But then you can't beat the tomatoes, the green beans, little eggplants and potatoes in the summer. In the fall, all of those root vegetables and apples and honey are good and keep for a while."
Suffice it to say, Douglas likes the variety of produce offered by the alliance, and she has since it began in 1994. She's an original member.
As the produce subscription service enters its 14th growing season, members are looking to expand to the Kansas City market while maintaining their base in Lawrence.
"I think there's a general trend toward trying to eat more local stuff," said Mark Lumpe, owner of Wakarusa Valley Farms and a grower in the alliance. "I still think there's a demand for more growers."
The Rolling Prairie Farmers Alliance started with help from a grant from the Kansas Rural Center. Since then, six to nine farms have participated each year, and the number of customers has fluctuated between 250 and 300.
"We figured people would drop off because they don't cook at home, and there were too many vegetables," said Bob Lominska, a grower who also serves as an administrator for the group. "People don't cook at home that much anymore."
But the alliance never saw that drop-off. Now, the service offers big bags of produce for $15 weekly, with pick-up sites Monday at the Community Mercantile, 901 Iowa, and Wednesdays at Johnson County Community College and Wild Oats in Mission.
Also, the alliance offers $12 "economy bags" Thursdays at Local Burger, 714 Vt.
In addition to the weekly fees, new members have to pay a $60 deposit check, and returning members have to pay $50. Some of that money is returned at the end of the season.
Variety
The produce varies greatly and includes fruits and vegetables. There are the typical cucumbers, carrots and greens. And then there are some unusual types of produce, including edamame, rhubarb and jujubes, a type of Chinese date.
"There's a certain level of excitement to see what's in the bag," Lominska said. "It's like their birthday or Christmas."
All of the produce is grown organically.
"Farmers Market is certainly a great option, but here you get exposed to more things," Lominska said. "There are things we give you that you might not buy. And it's a little more guaranteed - we think we're some of the best growers in the area."
The current lineup of growers includes pinch hitter Thornhill Farm. Paul Conway of Conway's Organic Produce near Leavenworth is currently serving in the military in Iraq.
Expansion
While the Lawrence market has remained steady through the years, Lumpe said he thinks Rolling Prairie could expand more into the Kansas City area.
"I think every market's different," he said. "In Lawrence, we really seem to max out. We haven't varied from that number in a while. In Kansas City, there are so many people. I think Kansas City is pretty wide open."
All of the growers have other outlets for their produce, Lominska said. But having a guaranteed market allows growers to make investments such as irrigation on their land.
Douglas said she likes receiving the variety of produce. But she also likes the philosophy behind Rolling Prairie.
"I like the fact that the food is produced locally," she said, "and that I can see and talk to the producers."
For more information about the program, visit the alliance Web site, www.rollingprairie.net.
Copyright 2018 The Lawrence Journal-World. All rights reserved. This material may not be published, broadcast, rewritten or redistributed. We strive to uphold our values for every story published.