For 80 years, the Kansas Relays have attracted elite talent such as Maurice Green, Justin Gatlin, Jim Ryun, Billy Mills and Wes Santee.
Lawrence resident Dick Wilson, 75, fondly recalls Santee and running with him in the four-mile relay.
In 1953, the team set an American record. But Wilson said his fondest KU Relay memory came in 1955, his final season.
Wilson and teammate Art Dalzell helped Santee prepare for his quest to break the four-minute mile. The two ran with Santee, providing him with a record pace. Wilson said the feat, which at that point had never been accomplished by an American, was no easy task. But a training session the week before at Haskell Indian Nations University indicated Santee had a shot at history.
When the relays arrived, heavy winds coupled with chilly weather sealed Santee's fate: 4:03.1. The weather cost Santee an estimated one second per lap.
"It was a privilege to run with someone like Wes," Wilson said. "He was one of the reasons I felt so honored to be a part of the KU track program."
Wilson set a Big 7 two-mile conference championship in 1954.
Once Wilson graduated, he hung up his running shoes and worked for Traveler's Insurance Co. for nearly 35 years.
At age 46, Wilson said a neighbor asked him to come out for a run and the shoes were back on for 28 years. During those years, he competed in half-marathons. At age 72, he was ranked No. 1 in the state for the third straight year in the 70-74 age group with an adjusted 10K time of 43:48.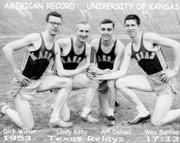 Wilson still loves the KU Relays.
"It's just so exciting when you have the crowd energized and that gets the athletes excited," he said. "The stadium makes a great site for the runners, and the fans feel like they're running out there with you."
His involvement with the relays is much different now. Since 1992, he has helped officiate some of the long-distance events. He is certified by the Missouri Valley Conference in lap timing. He served on the Kansas Relay Planning Committee from 2000-06.
Wilson recently retired his running shoes and now works for Francis Sporting Goods in downtown Lawrence. He still works out three or four times a week by lifting weights and using an elliptical machine.
"I figured after all of those years, it was time for my body to rest," he said.
Copyright 2018 The Lawrence Journal-World. All rights reserved. This material may not be published, broadcast, rewritten or redistributed. We strive to uphold our values for every story published.