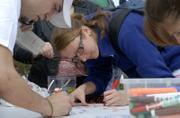 Kansas University student Dan Davis was heading home from classes Tuesday when he stopped momentarily at a table in front of Wescoe Hall.
Davis wrote a message on a banner to be sent to students at Virginia Tech, where a gunman shot and killed more than 30 people Monday. "I just wanted to tell them to stay strong. We're thinking of you," said Davis, a junior from Joplin, Mo.
Dozens of students wrote similar messages on the banner.
"You have the support of all students at KU," one person wrote. Another message simply stated, "Jayhawks Love You."
Students also picked up maroon ribbons to wear in memory of those who were killed. The table was set up by KU Student Union Activities and the banner will be sent to Virginia Tech.
"We got here at 11 (a.m.) and people were already here waiting for us to set up the table," said Tiffany Spriggs, a graduate student from Princeton, W.Va., only a 30-minute drive across the border from Blacksburg, home of Virginia Tech.
The tragedy in Virginia seemed to bring a solemn mood to KU's campus, said Sam Stepp, a Johnson County senior.
"I like to think KU is still a safe and secure campus, but it can happen anyplace. That's the sad and scary part about this," Stepp said.
Emergency alerts
KU leaders have said repeatedly this week that they are determined to learn from Virginia Tech's response to the crisis. In the aftermath of the shooting, Virginia Tech came under criticism for not alerting students and faculty more quickly.
Mike Reid was in a meeting Monday discussing a new cell phone, Web-based, text-messaging system that might be used to alert students and faculty at KU of emergencies.
Cell phone users subscribe to the system and can join certain KU-specific groups to receive messages from those groups, said Reid, director of marketing at the Kansas Union. One of the groups is the KU Department of Public Safety. Residence halls could send information to people in their group.
In addition to text-messaging, the system can use e-mail. Messages could appear on three monitors in the union and one at the KU Student Recreation Services building. The monitors are normally used to post information about KU activities.
"If you had an incident like (Monday) I suspect you would want to get the message out there any way you can," Reid said.
The system eventually will be available through cell phones made by 14 companies, Reid said. Right now it is available only on Sprint phones sold at the Union Bookstore. There is no cost to subscribe to the system. KU is attempting to obtain funding to pay for the subscriptions.
But now, there is no emergency alert process in place on the system. It is still being tested but is expected to be ready soon, Reid said.
Counseling for distressed
The Virginia Tech gunman has been described as a distressed loner. At KU and in Lawrence there are services for distressed students, said Pam Botts, director of KU Counseling and Psychological Services, or CAPS.
CAPS also works with students who recognize that a fellow student needs psychological help, Botts said.
"Anytime any faculty or staff or student has concerns about another student, they certainly can call our office and we can consult with them about the situation and make recommendations," she said.
Those recommendations might range from talking with the student or contacting a parent or administrator in an attempt to get the student to seek help. CAPS does not seek out the student, Botts said.
"They have to contact us to be able to get help," she said. "We can talk to the person concerned about what they can do to get help for that person."
But KU police can be called on to check on the person's well-being, Botts said.
CAPS doesn't have a hot line, but it can be called at 864-2277 from 8 a.m. to 5 p.m. Monday, Thursday and Friday, and 8 a.m. to 8 p.m. Tuesday and Wednesday.
Other services, such as Headquarters Counseling Center in Lawrence, are available at other times, Botts noted. If a student is in distress other resources are the Office of the Vice Provost for Student Success, Lawrence Memorial Hospital and KU police, she said.
Copyright 2018 The Lawrence Journal-World. All rights reserved. This material may not be published, broadcast, rewritten or redistributed. We strive to uphold our values for every story published.