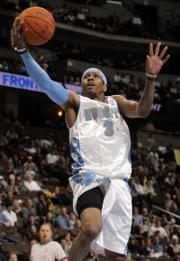 Denver — At first, it looked as if Allen Iverson had traded one dysfunctional team for another.
In the first 21â2 months after leaving Philadelphia for Denver, Iverson was part of a roll-the-dice lineup in constant flux because of injuries, illnesses, trades and suspensions.
Much like the team he left behind in Philly after 10 turbulent seasons with the franchise that made him the No. 1 overall pick in 1996, the Nuggets were both overwhelmed and underwhelming.
And for the first time in his career, A.I. wasn't the last one introduced before games - at least when a swollen elbow and sprained ankle allowed the four-time scoring champion to suit up at all.
Even when Carmelo Anthony returned from his banishment for fighting, the Nuggets did well just to hover around .500. Coach George Karl tried anything he could to jolt the team into a rhythm. He called out Anthony publicly, moved Iverson to the point, experimented with every imaginable lineup.
It all seemed like a recipe for another meltdown.
Instead, Iverson, never known for his defense, kept preaching stops to his teammates and kept telling anyone who would listen how blessed he and his family felt for the chance to start anew in the Rockies and how he wanted to finish his career in Colorado.
"I liked the situation I was in," Iverson said. "I felt I was in a better position than I was in Philadelphia, so I never lost hope or lost focus because I felt the day that we'd be playing good basketball would come. I'm just happy that it's now that we're headed into the playoffs."
The red-hot Nuggets will open against San Antonio with a roster that includes a healthy Nene, Marcus Camby, Iverson, Anthony and Steve Blake, with Linas Kleiza, Eduardo Najera and J.R. Smith rounding out the rotation.
"I think the sky's the limit," Iverson said. "As long as we take it one game at a time and trust in each other, play on the defensive end and play unselfishly, then everything will be all right. My whole thing, what I've been saying since I got here, is that a team has got to beat us four times in a playoff series and I'd like to see that happen."
The 6-foot tattooed bundle of energy never had anybody to take the scoring load off him in Philadelphia, despite a series of attempts with the likes of Chris Webber, Toni Kukoc, Matt Harpring, Keith Van Horn and Larry Hughes.
In Denver, 'Melo is the Man and A.I. is content to be his mentor and serve as his wingman.
Anthony is averaging 29.1 points and was leading the league in scoring until Kobe Bryant went on his super-sized surge last month, and Iverson is averaging 26.3.
But the Nuggets have shown they can play slowdown, too, something that is vital in the postseason, where possessions are more precious.
"I think it's important because in the playoffs, we're not going to be able to run as much, but we're going try to do it anyway," Iverson said. "On missed shots, we're going to try to get out and run. We don't want to play halfcourt basketball, but if we have to we have two great post up guys in 'Melo and Nene. We throw the ball down there and let them play. If they're doubled, they can kick it out to us and let us play."
With that blueprint, the Nuggets reeled off eight straight wins before losing at Memphis on Saturday night, the kind of streak they'd been hoping was possible since Iverson's arrival.
Copyright 2018 The Associated Press. All rights reserved. This material may not be published, broadcast, rewritten or redistributed. We strive to uphold our values for every story published.