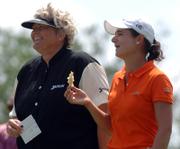 Reunion, Fla. — For three days, Lorena Ochoa and Laura Davies have matched each other shot for shot at the Ginn Open, finishing every round knotted atop the leaderboard.
Today, if Ochoa can pull away, she'll take home more than the $390,000 first prize.
The reigning LPGA player of the year shot a 2-under 70 on Saturday, remaining tied for the lead with Davies at 14 under through three rounds of the Ginn Open. Both birdied the final hole to move four shots ahead of Brittany Lincicome (67) and Natalie Gulbis (71).
If Ochoa gets the win, the 25-year-old Mexican star will pass Annika Sorenstam - who withdrew from the Ginn because of ruptured and bulging disks in her back, problems that will keep her sidelined for at least a few weeks - as the world's top-ranked player.
"It's something I would love to achieve," Ochoa said. "But I think it's more important to focus on the tournament, focus on my day, do my own thing, make sure I'm patient and just playing smart golf. And then everything will come with a good day tomorrow."
Any other finish will keep Ochoa at No. 2 when the new list comes out Monday.
"She's the best player on form at the moment," Davies said. "I think even Annika would admit that. Tomorrow's not going to be easy."
Ochoa and Davies flip-flopped on the lead throughout a 90-degree afternoon.
Davies was flawless on the front side, using three birdies to build a one-shot lead at the turn, then faltered on the back and temporarily gave Ochoa the upper hand.
Davies, who made two bogeys in her first 48 holes, took a double-bogey at the par-4 13th - giving Ochoa a two-shot lead. After tapping in for par there, Ochoa walked off the green smiling and twirling her putter like a baton.
Then, though, it was Ochoa's turn to blink.
Bogeys at the 14th and 16th holes, combined with Davies making birdie at the par-5 17th, knotted them atop the leaderboard again, and they stayed there when both made short birdie putts at the 18th.
"I played very consistent all day," Ochoa said. "I'm very happy."
Copyright 2018 The Associated Press. All rights reserved. This material may not be published, broadcast, rewritten or redistributed. We strive to uphold our values for every story published.