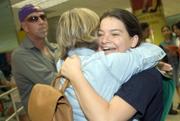 Athens, Greece — The captain of a cruise ship that sank off an Aegean Sea island, sending more than 1,500 passengers and crew onto rescue boats, was charged Saturday with causing a shipwreck through negligence.
The 469-foot Sea Diamond sank into the sea after hitting a well-marked and charted reef Thursday, in fair weather, inside the Greek island of Santorini's sea-filled volcanic crater.
The ship's Greek captain was also charged with breaching international shipping safety regulations and polluting the environment, a Merchant Marine Ministry spokeswoman said. Another five officers were questioned, but the spokeswoman was unable to confirm a state TV report that they also had been charged. All six were set free but will provide new testimony this week.
The ship had been minutes away from docking under the spectacular cliffs that make Santorini one of Greece's top tourist destinations. It was carrying 1,154 tourists, most from the U.S., and 391 crew members. Dozens of American high school students were among the passengers.
The stricken vessel was evacuated in a three-hour operation, but Jean-Christophe Allain, 45, and his 16-year-old daughter, Maud, from Doue-la-Fontaine in western France were listed as missing, feared to have been trapped in their flooded lower-deck cabin.
A three-day search has found no trace of them; officials said a robot submarine would investigate the hulk - lying more than 330 feet under the water's surface - this week.
The evacuation revived memories of the September 2000 Express Samina ferry shipwreck off the holiday island of Paros that killed 80 people.
Yiannis Evangelou, the head of Greece's association of travel and tourist agencies, said the Sea Diamond's rescue operation, which he watched from a nearby ferry, was "exemplary."
But some passengers complained of an insufficient supply of life vests and life boats, little guidance from crew members and being forced into a steep climb down rope-ladders to safety.
Claire Chevrier said she and her friends clung to the deck railing as the ship started sinking.
"It was the most horrifying experience in the world. There weren't enough life boats," said Chevrier, an 18-year-old from Boca Raton, Fla., who returned home Saturday. "We had to walk a plank from the ship to a ferry boat."
Tourism officials hastened to play down the potential effect on Greece's vital tourism industry, which accounts for an estimated 18 percent of the country's Gross Domestic Product.
Copyright 2018 The Associated Press. All rights reserved. This material may not be published, broadcast, rewritten or redistributed. We strive to uphold our values for every story published.