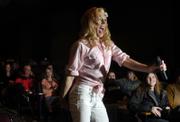 "They call me Ms. Fahrenheit!"
No one in the capacity crowd Friday at Kansas Union's Woodruff Auditorium was going to argue.
Professional performer Spencer Brown handled hosting duties at the 14th annual Brown Bag Drag Show at Kansas University. The event is the fifth program put on this week by KU's Queers and Allies student group to celebrate Pride Week.
Brown went by many names Friday, but, as the show's "grand hostess," he performed his songs and antics as "Daisey Bücket."
While the show dazzled the roughly 500 audience members inside, sophomore Q&A; member Crystal Hong was busy in the hallway helping navigate traffic. She was disappointed the cold weather forced the show indoors.
"This (drag show) is just one aspect of the queer community," she said. "Having it outside is a little more open because people, straight or gay, walk by and notice the show."
Brock Horner, a freshman from Shawnee, said the special week required planning on every level.
"We're already raising money for next year's events," he said. "The early planning for this starts in the fall."
Other KU students in attendance wanted to show their support of diversity and acceptance of others.
"I think it's an important thing in the world today to appreciate other people and their lifestyles," said KU freshman Annie Vangsnes. "I wish people just had more tolerance for people that live differently than they do."
Other events during Pride Week included discussions on such topics as the U.S. military's "Don't Ask, Don't Tell" policy, which concerns service members' sexuality. Syndicated sex columnist Dan Savage also visited the campus Tuesday night.
Q&A; President and senior Jonathan Pryor said he hopes the show will open eyes and create dialogue on KU's campus.
"Doing a drag show brings attention and it's for fun," he said. "The show is also a way of letting people understand the issues : people face."
Parade today
Pride Week continues with a parade at 11:30 a.m. today.
The route will travel from South Park north down Massachusetts Street and conclude at Watson Park, Seventh and Tennessee streets.
For more information about Pride Week, visit www.kuqanda.org/pride.
Copyright 2018 The Lawrence Journal-World. All rights reserved. This material may not be published, broadcast, rewritten or redistributed. We strive to uphold our values for every story published.