Chicago — Shoes and shirt are not required in this lunchtime grazing spot.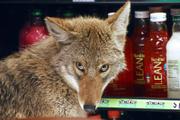 The coyote that walked into a downtown Chicago sandwich shop Tuesday afternoon was released Wednesday on 9 acres of private property, where rabbits and mice - not submarine sandwiches and chips - will be his daily fare.
The coyote, a little brown fellow with black-flecked fur, had startled customers in the Quiznos restaurant by walking in Tuesday and plopping himself down in an open soda pop cooler. No one was injured during the coyote's visit, which drew wide-eyed customers carrying camera phones as well as TV camera crews before city animal control officers took him away.
Employees at the Animal Care and Control Department named the animal "Adrian" after a department employee who watched him overnight.
Adrian's new home is on property owned by Barbara Overbey, a retired IBM executive who has previously taken in birds and raccoons from the Flint Creek Wildlife Rehabilitation refuge in Barrington, Ill.
Like any new celebrity, the new canine star looked warily at members of the news media gathered to watch his release. As snow flurries spotted his coat, Adrian bounded out of his kennel, eventually trotting away to private woods.
Adrian spent Tuesday night at the Animal Care and Control center resting quietly in the back of his cage, dining on cat food.
He was taken over to the Flint Creek Wildlife Rehabilitation refuge Wednesday morning for a physical exam before being released. Adrian checked out fine during his physical, the refuge's veterinarian said, save for a minor cut on his right shoulder, probably from his trip to the sandwich shop Tuesday.
Before the coyote left for the wildlife refuge, employees of the Quiznos visited, bringing him a warm prime-rib sandwich on garlic bread. But Animal Care and Control veterinarians rejected the offering.
"I understand," said Bina Patel, manager of the sandwich shop. "There are no prime ribs out in the wild."
The Quiznos was shut down after the incident and sanitized per Health Department instructions. The store donated $1,000 to Animal Care and Control for taking care of Adrian.
Copyright 2018 The Lawrence Journal-World. All rights reserved. This material may not be published, broadcast, rewritten or redistributed. We strive to uphold our values for every story published.