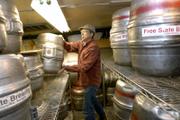 Free State Brewing Co. is looking to expand.
The brewpub - the first legal brewery in Kansas since Prohibition - aims to be the state's first microbrewery with multiple locations, now that the Kansas Legislature this week approved a change in alcohol laws that would make such an expansion a possibility.
Now all the bill needs is Gov. Kathleen Sebelius' signature and Chuck Magerl can go shopping for a new location, likely in the Kansas City area.
"It's early in the development stage of some scenarios," said Magerl, the brewery's proprietor and largest shareholder. "We're working on expansion and the opportunity to provide more good beer for more good people in Kansas."
Free State opened in February 1989, after Magerl helped convince legislators to permit such an operation for commercial sales. He assembled a team of investors - now about 24 strong - and leased and renovated a former trolley depot at 636 Mass.
After a 1996 expansion that enclosed an outdoor beer garden, Free State now seats up to 190 people for meals and beverages.
The brewery has 106 employees and each year produces about 2,500 barrels of beer, including such signature brews as Wheat State Golden, John Brown Ale and Oatmeal Stout.
Free State now is one of 16 microbreweries in Kansas.
"This is to make the law amenable to growing the economy," said state Rep. Ann Mah, whose legislation addressing farm wineries was amended to include the microbrewery provision.
Copyright 2018 The Lawrence Journal-World. All rights reserved. This material may not be published, broadcast, rewritten or redistributed. We strive to uphold our values for every story published.