-->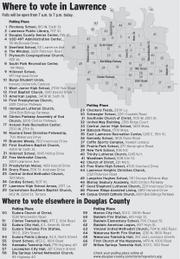 The finish line is here.
Voters today will determine the winners of races for the Lawrence City Commission, Lawrence school board and several races in outlying communities.
Polls are open from 7 a.m. to 7 p.m. today. Weather forecasts call for a high of 62 degrees with a slight chance of morning showers.
Voters will determine the winners of three seats on the Lawrence City Commission. Six candidates are vying for the spots: James Bush, Rob Chestnut, Mike Dever, Commissioner Boog Highberger, Carey Maynard-Moody and Commissioner David Schauner.
Voters will determine the winners of four school board seats among eight candidates: Mary Loveland, Michael Machell, Marlene Merrill, incumbent Rich Minder, Scott Morgan, Michael Pomes, Robert Rauktis and Victor Sisk.
Voters in Baldwin City, Eudora and Lecompton will decide City Council spots. School board positions also are up for grabs in the Baldwin City, Eudora and Perry-Lecompton districts.
Election results coverage
Coverage of election results can be found tonight at 6News and right here on LJWorld.com.
LJWorld.com will run live election tallies for the Lawrence City Commission and Lawrence school board races - with results available on a precinct-by-precinct basis.
After the polls close, business editor Mark Fagan and former Mayor Bob Moody will take questions and analyze election results during a LJWorld.com online chat.
Fagan and Moody also will join 6News' live election coverage, which will include candidate interviews and analysis.
LJWorld.com election coverage starts live after the polls close at 7 p.m.; 6News coverage begins at 8 p.m. on Sunflower Broadband Channel 6.
City commission race 2007
City commission race
Copyright 2018 The Lawrence Journal-World. All rights reserved. This material may not be published, broadcast, rewritten or redistributed. We strive to uphold our values for every story published.