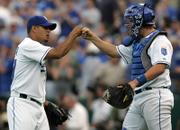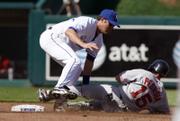 Kansas City, Mo. — More than 41,000 fans got on their feet and gave Gil Meche a standing ovation.
Very few of them would probably ever admit to being among the many critics who accused Kansas City of paying too much for the 28-year-old right-hander. The big deal paid off, for one outing at least.
In his first start since the Royals gave him a club-record five-year, $55 million contract, Meche went 71â3 solid innings and led his new team to a 7-1 victory over the Boston Red Sox and an ineffective Curt Schilling.
Settling down after a shaky first inning, Meche gave up six hits and one run. He struck out six and walked only one in the longest outing by a Kansas City starter on opening day since 1988.
"I've never admitted to being nervous before a game ... but this one was a little nerve-racking," he said. "I felt fine until I actually got across the white lines and thought to myself, 'This is opening day. This is a big deal.'
"I've always been nervous opening day, and I've never pitched opening day."
When he was relieved by Joel Peralta with one on and one out in the eighth, the crowd of 41,257 stood and applauded.
"It was great, something I'll never forget, being a part of this," Meche said. "The standing ovation was an unbelievable feeling for me."
Mark Grudzielanek went 3-for-5 and drove in three runs and Tony Pena Jr. hit two triples in his Royals debut as Schilling lasted just four innings. The six-time All-Star gave up five runs on eight hits, with two walks and five strikeouts in his shortest outing in almost a decade.
"Physically, I felt fine. I just didn't execute and didn't adjust," Schilling said. "One thing I've always preached to young pitchers is about the ability to make a mistake on a pitch and come back and make an adjustment on the very next pitch. I didn't do that today."
Now 1-3 in five career starts at Kauffman Stadium, Schilling had gone 281 starts since being lifted after 2 2-3 innings on May 22, 1997 against the New York Mets.
He was in trouble from the beginning, forcing in a run in the opening inning with his first bases-loaded walk since Aug. 7, 2005.
Schilling had also gone only two innings on July 18, 2001, at San Diego before a light bank blew and forced the game to be suspended. Randy Johnson took the mound when the game resumed the next day.
Boston manager Terry Francona said there was no chance of bringing Schilling back for a fifth inning.
"Four innings, 89 pitches. Those were four hard innings," Francona said.
Three of Meche's strikeouts came against Julio Lugo, the free-agent shortstop the Red Sox signed during the winter to add speed and pop in the leadoff spot.
Grudzielanek, the second baseman who won his first Gold Glove last season, had an RBI single in the second inning and then put the Royals on top 5-1 in the fourth with a two-run double. He also scored twice, on Schilling's bases-loaded walk in the first and Mark Teahen's RBI single in the sixth.
Grudzielanek underwent arthroscopic surgery on his left knee on March 5 and was initially expected to miss the first month or so.
"I'm sure Curt didn't have his good stuff," Grudzielanek said. "I had the approach in the past where I was way too aggressive with him. I tried to really make sure I got a pitch that I could hit, drive, It was just one of those things where it worked out today where I got decent counts and got him to throw something over the plate."
With his first pitch in the major leagues, Boston reliever Hideki Okajima gave up a home run to John Buck leading off the sixth.
"I knew it was his first pitch in the big leagues," Buck said. "I figured he was going to try to be aggressive with his first guy, so I was just looking for my pitch out over the plate. He happened to throw it right there. It was a good pitch to hit, a fastball."
After David Ortiz's RBI double put the Red Sox on top 1-0 in the top of the first, Schilling found himself in big trouble in the bottom of the inning after Grudzielanek, Teahen and Mike Sweeney loaded the bases with one-out singles.
Rookie third baseman Alex Gordon, the Royals' most promising prospect since Carlos Beltran, fouled off several pitches before striking out on a 1-2 delivery.
But then Ryan Shealy drew the bases-loaded walk, tying it 1-1.
Pena Jr., acquired in a trade from Atlanta near the end of spring training and handed the shortstop job, tripled in his first at-bat, scored the Royals' second run on Grudzielanek's single and tripled in the eighth off Joel Pineiro to make the score 7-1.
Buck doubled and Pena walked before Grudzielanek's two-out double in the fourth.
Notes: Denny Matthews, who's been broadcasting Royals games since the club was formed, was honored in pregame ceremonies for his pending induction into the Baseball Hall of Fame. ... In his last appearance in Kansas City last Aug. 10, Schilling tied an American League record by giving up 10 extra-base hits - nine doubles and a home run. ... It was the third-largest opening day crowd in Royals history.
Copyright 2018 The Associated Press. All rights reserved. This material may not be published, broadcast, rewritten or redistributed. We strive to uphold our values for every story published.