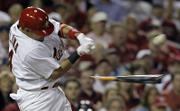 St. Louis — Tom Glavine patiently watched the St. Louis Cardinals celebrate the World Series title, a championship the New York Mets could have won themselves.
Then the 41-year-old went out and set a good example for how the Mets might finish the job this season, beating the defending champions, 6-1, in the major-league opener on Sunday night.
"There's no question for us as a group that it was a little bit of a disappointment that it wasn't us," Glavine said. "It could have very easily been us, but it wasn't. Maybe it's the kind of thing that you watch and know that when the season is over for us, that's what we want to be doing."
Glavine earned his 291st win, and Carlos Delgado put the Mets ahead with an early two-run double off Chris Carpenter.
Paul Lo Duca added three RBIs and made a nifty tag at the plate for the Mets, who lost to St. Louis in Game 7 of last year's NL championship series, which ended when Carlos Beltran took a called third strike from Adam Wainwright with the bases loaded in a 3-1 loss. The Cardinals went on to beat Detroit in five games for their first Series title since 1982.
Hall of Famers Stan Musial, Bob Gibson and Lou Brock were on hand for the festivities, which included the traditional appearance of the Budweiser Clydesdales.
The Cardinals unveiled flags atop a scoreboard commemorating all 10 World Series titles, along with a huge sign, "World Champions." A large pennant celebrating the 2006 championship was raised just below the American flag above the left-center-field stands.
"The day was beautiful, the fans were receptive," St. Louis manager La Russa said. "I was overwhelmed."
Glavine, counted on to lead the Mets' rotation while Pedro Martinez recovers from shoulder surgery, allowed one run and six hits in six innings before Pedro Feliciano, Joe Smith, Aaron Heilman and Billy Wagner finished up.
"I think he's better than ever myself," La Russa said of Glavine. "Guys that do it for years and years and years are amazing."
Carpenter, who topped the major leagues with a 1.81 ERA at home last year, retired his first five batters, then allowed the Mets to go 9-for-15 with a sacrifice and a walk against him the next 21â3 innings.
"I felt strong, I just wasn't happy with my location," Carpenter said. "Balls were out over the plate, good, hittable pitches, especially to a lineup like that. You make a mistake, they're going to hit it, and they did."
Copyright 2018 The Associated Press. All rights reserved. This material may not be published, broadcast, rewritten or redistributed. We strive to uphold our values for every story published.