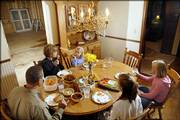 In the Wethington household, the activity of sitting down to dinner faces stiff competition.
"We have three soccer players, we have three girls taking piano," Kristin Wethington said. "We have a Brownie. One of them takes dance. One plays tennis for West (Junior High School). They're all active in church, and that's Wednesday night."
Yet against the odds, Kristin and her husband, Dan, an engineer, say they're able to sit down together with their kids almost every night for some semblance of a meal - even if it's just dessert.
A nationwide event planned for today aims to promote that kind of dedication to family meals as a way to raise healthier children and reduce the risk of substance abuse.
The event, titled Family Day, is based on recent research by the National Center on Addiction and Substance Abuse at Columbia University. It found that children who ate dinner five to seven times per week with their families were far less likely to smoke, drink and use drugs than those who ate zero to two dinners per week with their families.
For example, children in the first category were about three times less likely to use marijuana.
"It's all about that communication - letting them know, 'I care about you and I want to know what you're doing,'" said Jen Brinkerhoff, director of the Regional Prevention Center of East Central Kansas, which is promoting the event locally. "It's a simple thing that we just need to be reminded of."
She suggested that families who don't regularly eat together should start small, with perhaps one night per week. Don't pick up the phone, and turn off the TV during the meal, she said.
If the Wethingtons miss dinner together - and there are plenty of "eat-a-sandwich-in-the-car" nights - they make it a point to have popcorn or dessert together by night's end, even if they're all in pajamas. They have a family tradition of going around the table and asking each person's most interesting event of that day.
Seth and Kari Heide, who direct the youth ministry at Grace Evangelical Presbyterian Church, make it a point to eat dinner seven nights per week with their three children, all under age 6.
"It's just part of what we do," Kari Heide said. "It's less expensive. Our kids are young, and that's what they need."
Copyright 2018 The Lawrence Journal-World. All rights reserved. This material may not be published, broadcast, rewritten or redistributed. We strive to uphold our values for every story published.