It looked like more of the same for Veritas Christian in the first quarter Friday against Wichita Trinity.
Quarterback Ben Balman fumbled the ball on the opening play and fumbled again on Veritas' second possession, the second miscue returned for a touchdown. Midway through the second quarter, Veritas found itself down three touchdowns and staring at an 0-4 start.
It all changed after senior linebacker and running back Ben Reynolds got in the face of his defense.
"I just saw that guys needed some encouragement," Reynolds said. "We have been down like that before, and they just needed something because we were tired of getting down like that. I just saw it in their eyes."
The momentum immediately shifted and ultimately led to an improbable 36-34 victory in the Eagles' home debut at the Youth Sports Inc. complex.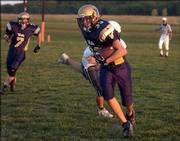 "He has the guys' respect and he challenges them," Veritas coach Doug Bennett said of Reynolds. "He likes to win. He wants to keep the tradition our program has. He expects to win when he steps on the field and he tries to instill that in his teammates."
Reynolds did it on offense too, scoring three time. His 4-yard touchdown run with under three minutes to play put the game out of reach at 36-27. Reynolds finished with 70 yards on 13 carries.
Wichita Trinity would score on its next possession, but it wasn't enough as Veritas (1-3) held on.
The Eagles trailed for nearly the entire contest until Balman gave Veritas the lead on a 1-yard touchdown run with just over six minutes to play in the fourth quarter.
Balman settled down in the second half after fumbling three times in the first. This season is the first time Balman has ever played competitive football.
"Football is not an easy game to pick up, but he has done a great job," Bennett said. "He is living up to the things that I thought that he could do by midseason. Hopefully, he just continues to build on this game."
Balman rushed 27 times for 74 yards and was 4-of-6 for 73 yards and a touchdown through the air.
Veritas will play host to St. John's Military next Friday at 7 p.m.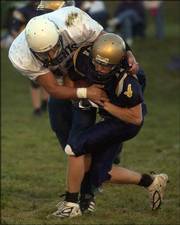 Veritas 36, Wichita Trinity 34
Veritas 0 14 8 14 - 36
Trinity 15 12 0 7 - 34
T - Taylor Hoppock 17 run (Joseph Fisher kick)
T - Ted Kriwiel 76 fumble return (kick failed)
T - Safety, Reynolds sacked in end zone
T - David Penner 21 pass from Hoppock (kick failed)
V - Jacob Hain fumble recovery in end zone (Ben Balman run)
V - Ben Reynolds 25 pass from Balman (run failed)
T - Taylor Alfers 23 pass from Hoppock (pass failed)
V - Reynolds 20 run (Michael Kay pass from Balman)
V - Balman 1 run (Reynolds run)
V - Reynolds 4 run (run failed)
T - Kriwiel 25 pass from Hoppock (Fisher kick)
Copyright 2018 The Lawrence Journal-World. All rights reserved. This material may not be published, broadcast, rewritten or redistributed. We strive to uphold our values for every story published.