Rex TV and Appliance is closing.
Pay-Less Furniture Outlet is moving.
And Dale Willey Automotive is expanding.
The real estate chain reaction starts as early as today, when Rex closes its store at 2800 Iowa for good after 13 years in business.
Joe Yost, district manager for the chain of 210 stores in 36 states, said the decision to close the Lawrence store had nothing to do with its retail performance.
The Dayton, Ohio-based company simply received a real estate offer it couldn't refuse.
"This had nothing to do with Best Buy or Nebraska Furniture Mart. Business was good. We were making money," Yost said Thursday, as he helped load appliances for delivery to some of the location's last customers. "Money talks. It doesn't matter if you make it in retail or in real estate."
Rex sold the building for $966,000 to Robert Fyfe, owner of Pay-Less Furniture Outlet, said Marty Henderson, an agent for De Soto-based RE/MAX Kaw Realty, who handled the deal.
Pay-Less will be moving to the Rex location this fall from a building Fyfe leases at 2900 Iowa, just south of Dale Willey Automotive. In documents filed at City Hall, Fyfe said he had notified his landlord that he would be out by Sept. 30, unless he receives permission to remain on a day-by-day basis.
Pay-Less needed to find a new home after Fyfe learned that he was losing his lease. The building is being sold to Dale Willey.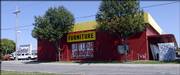 Willey plans to tear down the Pay-Less building and an adjacent row of units at A-1 Mini Storage.
Willey intends to extend his dealership onto the site, where he will relocate his used-car lot.
The expanded used-car lot will have room for 100 vehicles, up from the 60 or so he has room for now, Willey said. By relocating the used cars, Willey will have space for more than 200 new ones - up from the 150 he has now.
Willey closes on his purchase of the site early next year and plans to start demolition work soon thereafter.
"It's more than we wanted to pay, but : we're thrilled to have better visibility, with that red building gone," Willey said. "We'll have the opportunity to carry more pre-owned vehicle inventory and, hopefully, sell more vehicles."
The deal also means Willey will own the storage business, which will remain. The units being razed for the lot expansion are leased for Pay-Less Furniture Outlet's use and will be unnecessary after Pay-Less relocates to the Rex site, Willey said.
Copyright 2018 The Lawrence Journal-World. All rights reserved. This material may not be published, broadcast, rewritten or redistributed. We strive to uphold our values for every story published.