New York — A ground zero visitors center opened Wednesday in a once-shuttered storefront on Liberty St., offering a sorely needed guidepost to the site.
After weeks of construction, the 6,000-square-foot Tribute WTC Visitor Center will now provide an audiovisual history of the World Trade Center, Sept. 11 and the victims.
"Tribute is the critical word, because for all the horror, for all the loss on Sept. 11, we can never forget the courage with which New Yorkers responded," New York Gov. George Pataki said at a ribbon-cutting ceremony at the south edge of the trade center site.
The center opened to private visits from victims' families, Sept. 11 survivors and recovery workers on Wednesday. It opens to the public on Sept. 18, officials said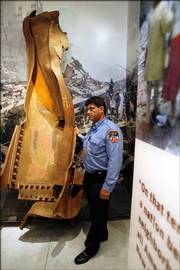 The center will remain open until the WTC Memorial and Memorial Museum open in 2009.
"Thousands of visitors flock to this site every day, seeking understanding, and also looking to pay tribute to those who were lost and those who came to our aid," tribute center President Lynn Tierney.
The center, which also serves as a starting point for walking tours of the site, was created by the September 11th Families Assn.
It is funded mainly by a $3 million federal outlay approved by the Lower Manhattan Development Corp.
Just inside the entrance, visitors are greeted by a huge model of the WTC complex, set against a wallcovering harbor panorama once seen from the twin towers' heights.
Mementos on display include a window from one of the doomed aircraft, a mangled menu from Windows on the World and the health insurance card of a victim, Tara Hobbs, who worked for Aon Corp. One wall is covered in missing-person fliers that went up in the days after the attacks and there is also the uniform of a firefighter who died.
"The site is so tremendous in size that people wonder where the twin towers stood," said Joseph DeAngelis, a volunteer guide. "Some never came here before, so they have no idea how big the towers were."
Copyright 2018 The Lawrence Journal-World. All rights reserved. This material may not be published, broadcast, rewritten or redistributed. We strive to uphold our values for every story published.