After the first serve of her match, Lauren Kelly quickly realized she would face stiff competition Wednesday afternoon at the Lawrence Triangular.
Kelly, Lawrence High's No. 1 singles player, was unable to return many of Jourdan Jackson's powerful serves. Jackson, an Olathe South freshman, defeated Kelly, 8-2, in the first singles match of the day at the Lawrence Tennis Center.
After about an hour rest, Kelly went right back into action against Shawnee Mission South sophomore Mary Weatherholt, who finished third in the Class 6A state tournament last season. Weatherholt held off Kelly, 8-1.
"I thought that she was really consistent," Kelly said of Weatherholt. "You could tell she practices a lot."
In the second singles match, Weatherholt established an early lead. Kelly hit several faults from her serving position and was forced to play a conservative second serve. The second serves didn't have as much power as Kelly's initial offerings because she wanted to ensure she put the ball in play. As a result, Weatherholt hit powerful comeback shots that Kelly couldn't reach.
"I kept making a lot of easy unforced errors," Kelly said. "They had me moving a lot, but I felt that I got across the court pretty well."
After the matches, Kelly said she would build upon the experience of facing two competitive players.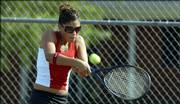 It will start with serving.
"On second serve, I'm going to start doing a topspin serve, using more topspin on my forehands and backhands," Kelly said.
Lawrence High coach Steve Hudson said he was proud of Kelly's effort and advised her to try to put the ball in play consistently.
"She made Mary Weatherholt work hard for every point," Hudson said. "Athletically, she's superior to many players who she plays. Skill-wise, she needs to develop spin on her ground strokes and backspin on her volleys."
Hudson said he had high expectations for Kelly this season and that she would only move forward from the two matches.
"To be the best, you have to beat the best, but I say at least you have to play with them first," Hudson said. "You can't be shy or afraid of that kind of competition, so it's going to do nothing but help her. If you can learn something from your match, then you haven't really lost."
In other action, LHS senior Kelly Morgan went 1-1 at the No. 2 singles spot.
Lawrence High senior Lily Boyce and junior Lucy Liu went 1-1 at the No. 1 doubles position.
In the Lions' No. 2 doubles spot, seniors Joanna Wakeman and Becca Dirks went 0-2.
Copyright 2018 The Lawrence Journal-World. All rights reserved. This material may not be published, broadcast, rewritten or redistributed. We strive to uphold our values for every story published.