Tehran, Iran — The U.N. chief got little satisfaction Sunday at the close of his trip to Tehran, snubbed by Iran's leader over international demands to stop enriching uranium and ignored in warnings not to incite hatred by questioning the Holocaust.
In a provocative move on the final day of Kofi Annan's two-day visit, Iran announced it would host a conference to examine what it called exaggerations about the Holocaust, during which more than 6 million Jews were killed by the Nazis.
The move was sure to draw new international condemnation of Iran's stance on Jews. Hours after the announcement, Annan repeated his displeasure about an exhibition in Tehran of cartoons mocking the Holocaust that was opened as a response to Western caricatures of Prophet Muhammad.
"I think the tragedy of the Holocaust is an undeniable historical fact and we should really accept that fact and teach people what happened in World War II and ensure it is never repeated," Annan told reporters.
He commented after a meeting with President Mahmoud Ahmadinejad, but the hard-line Iranian leader didn't accompany the U.N. chief to the news conference.
Ahmadinejad has drawn strong condemnations around the globe for calling the Nazis' slaughter of Jews a myth and saying Israel should be wiped off the map or moved to Germany or the United States.
The Holocaust exhibit is being held to underline outrage about Prophet Muhammad caricatures in Western media. Islam forbids picturing Muhammad at all, but Muslims also were angered by the cartoons' negative tone, such as one showing the prophet wearing a turban shaped as a bomb with a burning fuse.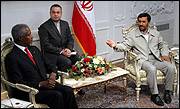 Annan first raised his concerns about the exhibit during a meeting Saturday with Iranian Foreign Minister Manoucher Mottaki, according to the U.N. chief's spokesman, Ahmad Fawzi. He quoted Annan as saying that "we should avoid anything that incites hatred."
Annan's visit came after Iran ignored the U.N. Security Council's Thursday deadline for Tehran to halt uranium enrichment, opening the door to possible sanctions because of concerns that the Iranians are trying to develop atomic weapons.
"On the nuclear issue, the president reaffirmed to me Iran's preparedness and determination to negotiate" a solution to the nuclear confrontation, Annan said at the news conference.
However, Ahmadinejad "reiterated that he did not accept suspension before negotiations," the U.N. chief said, conveying Iran's rejection of a condition set by the five permanent members of the Security Council plus Germany.
Copyright 2018 The Associated Press. All rights reserved. This material may not be published, broadcast, rewritten or redistributed. We strive to uphold our values for every story published.