Baghdad, Iraq — A barrage of coordinated bomb and rocket attacks on eastern Baghdad neighborhoods killed at least 47 people and wounded more than 200 within half an hour Thursday, police and hospital officials said.
The latest spasm of violence - which included explosives planted in apartments, car bombs and several rocket and mortar attacks on mainly Shiite neighborhoods in the capital - came even as Prime Minister Nouri al-Maliki said Iraqi forces should have control over most of the country by year's end.
The Baghdad bombings - centered on neighborhoods controlled by Shiite militias, some of which Sunni Arabs accuse of running death squads - brought the day's death toll across the country to at least 68.
Attackers rented apartments and shops in buildings a few days ago and planted explosives in them, detonating them by remote control almost simultaneously Thursday evening, said Maj. Gen. Jihad Liaabi, director of the Interior Ministry's counterterrorism unit.
One of the targeted buildings was a medical center housing doctors' offices in al-Hamza Square on the outskirts of the Sadr City slum in east Baghdad, he told state television.
The attacks occurred between 6 p.m. and 6:30 p.m. and included a car bomb at a market, another behind a telephone exchange building and several rocket and mortar attacks, police said.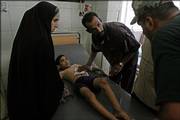 Police and witnesses said bodies, many of them charred, still had not been recovered from the buildings and the death toll could rise.
Earlier in the day, a suicide car bomber killed two people at a gas station, while a British Embassy convoy was targeted in the upscale Mansour neighborhood in western Baghdad. Two passers-by were wounded in the convoy attack, police said.
The bloodshed was part of a violent week that has left hundreds of Iraqis dead.
The U.S. military also announced that two American soldiers and a Marine were killed Wednesday. According to an Associated Press count, that death brings to 18 the number of U.S. soldiers killed since Sunday.
But authorities said they were optimistic about the handover of security control.
Al-Maliki said Iraqi forces would assume responsibility for Dhi Qar province in the south in September, making it the second of Iraq's 18 provinces under the control of local forces.
"This makes us optimistic and proud because we managed to fulfill our promise," al-Maliki said. Iraqi authorities took over Muthanna province in the south from the British in July.
Dhi Qar is populated mainly by Shiite Muslims. Compared with more volatile areas, such as Anbar province in the west and Baghdad, it has been spared much of the sectarian violence.
However, U.S. commanders recently expressed concern about the growing influence of Shiite militias in the area, many of whom they say receive support from Iran.
The Defense Ministry said it would sign a memorandum with coalition forces on Saturday "about strategic control and operations."
Copyright 2018 The Associated Press. All rights reserved. This material may not be published, broadcast, rewritten or redistributed. We strive to uphold our values for every story published.