New York — Thousands of homes and businesses had no electricity Sunday from Maryland to Maine as a storm system blasted the region with winds gusting to more than 50 mph, knocking over trees and a construction crane. The storm was blamed for at least two deaths.
Gusts of 60 mph were recorded Sunday in northern New York state, the National Weather Service said.
A falling tree killed a motorcyclist in Massachusetts, police said. In New Hampshire, one man was missing after falling off a cruise ship on Lake Winnipesaukee during the storm late Saturday, and one man drowned when his kayak overturned on a rain-swollen river, state officials said.
In hard-hit Maine, a 165-foot crane with a wrecking ball attached toppled in one of the most populous neighborhoods of Portland, falling on three houses. No injuries were reported.
The wrecking ball narrowly missed a car.
"The first thing I saw was the ball coming down really fast about 10 feet from us," said Colleen Mowatt, 48, of Gorham, Maine, whose boyfriend hit the brakes just in time. "It hit the roadway, and the rest of the crane just fell on the buildings in front of us."
More than 100,000 utility customers throughout the region, including 44,000 in Maine and 38,000 in upstate New York, were left without power Sunday.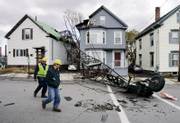 "The leaves are coming off the trees and the voting signs are on the ground," said Dawn Banks, a resident of Mattydale in Onondaga County, N.Y., where winds reached up to 60 mph. The Halloween headstones on her lawn, each weighing between 10 to 15 pounds, were "blowing about pretty good," Banks said.
New Jersey's Newark Liberty International Airport, one of three major airports for the New York City region, had delays up to 1 1/2 hours, mostly for incoming flights, authorities said.
Willimantic, Conn., reported 3.54 inches of rain Saturday, and New York City's Central Park measured 2.54.
The weather observatory atop New Hampshire's 6,288-foot Mount Washington, famous for severe weather, reported sustained wind of 100 mph and a gust to 114 mph. The peak also got 11 inches of snow overnight, for an October total of 39 inches.
Copyright 2018 The Associated Press. All rights reserved. This material may not be published, broadcast, rewritten or redistributed. We strive to uphold our values for every story published.