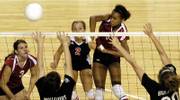 Topeka — Emily Renfro wasn't sure which emotion to embrace after leaving the locker room Friday afternoon in the bowels of the Kansas Expocentre.
There was the joy of the previous hour, when the senior outside hitter and her Lawrence High volleyball teammates gave their contingent of boisterous fans a glimpse of the Lions in state-tournament form.
Unfortunately, the good vibe couldn't help but be tempered somewhat by what took place during the previous five hours at this year's Class 6A state tournament.
The eighth-seeded Lions' two-game thumping of fifth-seeded Wichita-Haysville Campus proved to be a textbook case of too little, too late, coming on the heels of two earlier losses that guaranteed LHS wouldn't escape pool play and stick around for today's championship semifinals.
"I've got totally mixed feelings right now," said Renfro, one of three seniors who played her last match for the Lions. "It was a good win, but, obviously, today was just not a very good day for us.
"We came out ready for tomorrow, and we weren't ready for today."
LHS (13-26) entered state play hopeful of a repeat of last week's performance at the 6A sub-state tournament, when it brushed aside all the bad karma of a disappointing regular season with consecutive upsets against Olathe Northwest and city rival Free State to punch a ticket to Topeka.
Even the squad's new bright blue warm-up shirts - emblazoned with the motto "Beat Em When It Counts" - pointed to the Lions' awareness that picking the right time to play their best volleyball of the season had its benefits.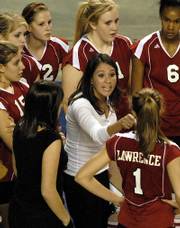 Ultimately, they didn't put that plan into action during the most critical moment of their season. After giving top-seeded Olathe South a scare in the first match of the day - falling 25-18, 22-25, 25-16 - LHS reverted to midseason form in a must-win match against fourth-seeded Maize.
Hitting errors, service errors, free balls falling to the floor - they all played a part in the Lions' 25-13, 25-18 loss and made sure the tournament Cinderella wouldn't skate through to Semifinal Saturday.
"I think it's just a reflection of our entire season," LHS coach Molly LaMere said. "We've had that problem all season, picking and choosing which games we wanted to give our best effort in. That's something we need to get better at. It's just too bad the season is over before we learned it."
To their credit, the Lions discovered something else just a short time later - that a sense of pride can reap great rewards.
Rather than wallow in the disappointment of an opportunity lost, the Lions created a state-tournament memory to hold onto in their Friday finale, thoroughly dominating Campus, 25-17, 25-14, and, for at least one match, proving they indeed belonged among the state's elite 6A programs.
"It was tough going in there knowing however well we did, we'd be done," senior Amanda Weishaar said. "We decided to play for us, have fun. That's what volleyball is about."
"I think, as the underdogs and the eighth-seeded team ... we turned some heads and earned some respect," LaMere added. "I'm just excited for our seniors and glad they ended on a good note."
Copyright 2018 The Lawrence Journal-World. All rights reserved. This material may not be published, broadcast, rewritten or redistributed. We strive to uphold our values for every story published.