Dodge City — Dodge City has a rich history as an Old West frontier town, where cowboys and gunslingers could take a break from the trail and get their fill of saloons and brothels.
Today, the tidy town that was built on meatpacking and rodeos once again is facing off with gunfighters. But this time it's street gangs, some with second-generation members as young as 11, whose drug of choice is methamphetamine and whose weapons range from automatic rifles to baseball bats.
"When it was old Dodge City, it was cowboys coming off the range and ending up in Dodge and raising hell and letting things go," said John Ball, Dodge City chief of police. "This is entirely different. There is no comparison.
"The gangs, these are people who are choosing to commit dangerous and criminal acts and they're choosing it as a lifestyle that is criminal and wrong. There is no regard for anyone in the community, and I can't begin to explain their rationale."
A gang member was hospitalized Tuesday after being hit in the leg in a gang-related drive-by shooting, Ball said. The injury wasn't life-threatening.
Street gangs, often thought of as a big-city problem, have been turning up in rural areas across the country since the 1980s, frightening residents and straining manpower and budgets of the smaller law enforcement departments. Rural gangs are often more transitory than their urban counterparts, but they appear to have a foothold in several rural communities.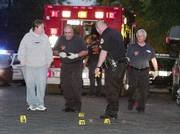 About 24,000 gangs operate around the country, according to the U.S. Department of Justice, which estimates there are about 760,000 members, impacting 2,900 communities. Most gangs are in major cities.
But in the 2004 Youth Gang Survey conducted by the Justice Department, 82 percent of large cities surveyed, 42 percent of suburban counties, 27 percent of smaller cities and 14 percent of rural counties reported active youth gangs.
A 2005 study from the University of South Carolina showed 37 percent of towns surveyed in that state with populations of 10,000 or less reported gang activity.
Gang activity in Dodge City started in the 1980s. Ball said he now estimates the town of 25,000 has more than 300 gang members, most of whom are Hispanic. Dodge City is one of the few western Kansas towns that has been growing, largely due to the influx of Latinos drawn to the meatpacking industry in southwest Kansas.
A recent uptick in gang violence over the summer caught the town's attention. From Aug. 19 to Sept. 22, the city recorded seven drive-by shootings. No one was killed, but police made nine gang-related arrests after the shootings, and houses that weren't intended as targets were sprayed with bullets.
Ball said the violence not only threatens residents, but also ties up the police department, which has about 50 officers.
"We don't have some of the resources or the manpower that other bigger departments do," he said. "But obviously when you're dealing with people who have no regard for human life, and they are carrying weapons, firearms, knives, bats and fighting against each other and wanting to fight the police and anything else, it's a whole different aspect that we have to concentrate on."
Vickie Mercado, a longtime Dodge City resident, wants her hometown to get a handle on gangs. Mercado's 18-year-old son, Justin, who was not in a gang, was shot to death by a 14-year-old gang member who is eligible for parole in 2011 for Justin's death.
That was 10 years ago. Before Justin's death, Mercado and her family always felt safe at home.
"We didn't know we had a gang in Dodge City," she said. "We were completely blown away. Now I don't feel safe anywhere."
Justin's death galvanized the community - for a while. An organization, Stop the Violence, was started to educate Dodge City residents about gangs. But interest in the group has tapered off.
"I think it'll take another tragedy for people to come forward and get involved again," Mercado said.
But another tragedy is what she wants to avoid.
Copyright 2018 The Associated Press. All rights reserved. This material may not be published, broadcast, rewritten or redistributed. We strive to uphold our values for every story published.