Austin, Texas — Colt McCoy was just supposed to manage the offense for No. 5 Texas and let the Longhorns carry him along for the ride.
Instead, he and wide receiver Limas Sweed have became one of the best touchdown tandems in the country as the Longhorns (7-1, 4-0 Big 12) fight to stay in the hunt for the national championship heading into Saturday night's game at Texas Tech (5-3, 2-2).
Sweed and McCoy have hooked up for nine TDs this season, four of them covering 42 yards or more.
The first was a 60-yard score on McCoy's second career completion. The latest came last week with a 55-yarder against Nebraska in Texas' 22-20 victory.
"They have a special deal going on," Texas offensive coordinator Greg Davis said. "(McCoy) has great confidence Limas is going to be where he's supposed to be."
McCoy's schoolboy looks and Sweed's imposing 6-foot-5 frame remind Texas fans of the Major Applewhite-to-Roy Williams connection a few years ago. Williams, who set Texas career receiving yardage and touchdown records, is now in the NFL with the Detroit Lions.
Sweed even wears Williams' old No. 4, which initially drew snickers until Sweed started producing like Williams did on the field.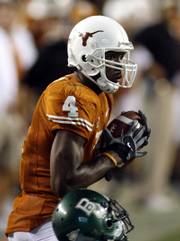 "Everyone laughed about him wearing that number," coach Mack Brown said. "He's earned it now."
The McCoy-to-Sweed connection has produced some of Texas' biggest touchdowns on the season. Sweed's 33-yard catch in the third quarter against Oklahoma proved to be the game-winner.
The pair recognized the Sooners' blitz and coverage. A simple nod from McCoy changed Sweed's route at the line, and he lofted a perfect pass to the corner of the end zone for the score.
Against Nebraska, McCoy shocked the blitzing Cornhuskers with a perfect strike deep downfield to Sweed just before halftime. The blitz left the cornerback in single coverage and Sweed simply ran past him.
"He's a difference-maker for us every week," Brown said. "He's a mismatch."
So much so that the Longhorns threw a risky pass to him in the end zone before kicking the game-winning field goal against Nebraska.
McCoy threw a jump ball into coverage that fell incomplete. Had he thrown it higher and to the outside, Sweed would have had a good chance to make the catch.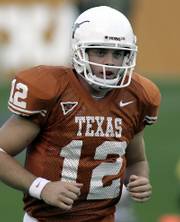 Brown said he didn't think twice about the gamble.
"Throwing to him on a short corner is not a bad call," Brown said. "He's become a go-to guy."
McCoy and Sweed say their chemistry developed in summer workouts when the quarterbacks and receivers would get together for volunteer passing drills. Brown said he heard from Sweed more than any other player that McCoy was developing into a first-rate quarterback.
Nearly half of McCoy's Texas freshman record 20 touchdowns have gone to Sweed, who is now only three shy of Williams' Texas season record of 12.
McCoy said his favorite was his first, the 60-yarder in the season opener against North Texas. Sweed said McCoy's best was his last, the long pass against Nebraska when the quarterback had to stand in against a blitzing linebacker and took a hard hit under the chin just as he released the ball.
"He's seen it all, and he's been through pretty much everything imaginable that a young quarterback can go through," Sweed said. "I don't think that anything he sees at this point in his career can rattle him."
Copyright 2018 The Associated Press. All rights reserved. This material may not be published, broadcast, rewritten or redistributed. We strive to uphold our values for every story published.