Kansas University swept its first Big 12 Conference opponent this season, defeating Baylor, 3-0, Saturday night in Horejsi Family Athletic Center.
"Our kids executed the game plan very well," Kansas coach Ray Bechard said. "I was very proud."
The Jayhawks, notoriously slow starters, keyed their victory with a dominating game-one performance. In their first game-one victory in Big 12 play, they never trailed and led, 14-5, before winning, 30-23.
"We got off to a good start," Bechard said. "The girls seemed really ready to go."
Wednesday, KU (10-9, 3-7) won three straight games against Kansas State to prevail against its cross-state rival at home for the first time since 1994. That victory halted a five-match losing streak, and the Jayhawks carried that momentum into Saturday's match.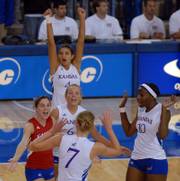 "Coming off that K-State win last week was pretty crucial," said Emily Brown, who had 13 kills, a team-high 12 digs and two aces. "We're ready to kind of turn the season around now."
For the fifth time this season, KU swept its opponent. It won the last two games Saturday, 30-27 and 30-24, behind strong serving. The Jayhawks, led by freshman Melissa Grieb's three aces, racked up six aces and eight errors.
"That's one of the things at the beginning of the season that kind of hurt us," Brown said. "And we're kind of using it to our advantage now."
The offensive and defensive prowess of senior Jana Correa serves as another advantage. The senior registered 11 digs and a team-high 16 kills.
"Correa continues to be great," Bechard said.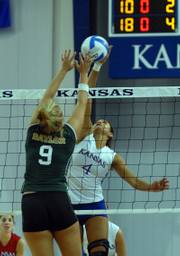 And tough. Early in the second game, Correa, who underwent reconstructive knee surgery last season, chased a ball and crashed into the seats on the KU bench.
"I didn't even look. I was just trying to get the ball," Correa said while rubbing the top of her head. "It's better, but it hurts."
Correa did not miss any action.
"She has a special type of mentality," Bechard said, "quite a warrior."
KU can expect another battle from Baylor. The Bears (13-8, 2-7) will look to avenge this loss when they play host to the Jayhawks on Nov. 15.
Baylor surprised Bechard by resting 6-foot-5 middle blocker Desiree Guillard-Young, a preseason All-Big 12 selection, for some of the match.
"She is a really talented player," Bechard said. "Maybe they had another girl they thought had some blocking match-ups against us."
Perhaps such curious substitution patterns are one reason Baylor has lost six straight matches. Having ended its own skid Wednesday, KU could be peaking for its last 10 contests of the season.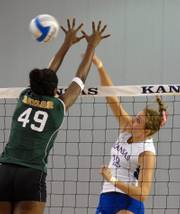 "(The Bears) a very good team, but right now they're having their struggles," Bechard said. "And the Jayhawks are starting to go in a different direction."
The KU volleyball team had a very different fall break than the rest of the student body, which has been off since Thursday.
Call it a working vacation. The Jayhawks, however, will not face another opponent until visiting Texas A&M; on Oct. 21.
"(It) kind of gets our legs back under us," Brown said. "With those two wins, going into a break is a big."
Copyright 2018 The Lawrence Journal-World. All rights reserved. This material may not be published, broadcast, rewritten or redistributed. We strive to uphold our values for every story published.