No one named Joe Bfstplk is listed on the Haskell Indian Nations University football roster.
Yet the Al Capp cartoon character with the bleak rain cloud perpetually over his head seems to be following the Fightin' Indians around.
"It seems like a dark cloud is hovering over us," HINU quarterback Marlon Dick said after a 21-13 homecoming loss to Avila College at Haskell Stadium.
Saturday's defeat was the third by eight points or less for the Indians (1-6) and was eerily reminiscent of a loss to University of St. Mary about a month ago, also at home.
In that one, the Indians were trailing 14-7, and driving for a potential tying touchdown late in the fourth quarter when a busted play led to a Dick fumble that a Spires' player picked up and ran into the end zone. Final score: St. Mary 21, Haskell 7.
Saturday's deja vð also involved Haskell driving late in the fourth quarter, a Dick fumble and a long run by an opponent to ice it.
This time, however, Avila was nursing a one-point lead when the Indians took over on their own 47-yard line with 4:06 remaining. Four plays later, the Indians were on the Avila 39 when Dick faded left on first down.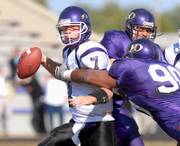 "I was stepping up to throw a post route," Dick said. "I was ready to release when I got hit from behind."
This fumble was covered, not picked up, but three plays later Avila tailback Brandon Holliwell broke off right tackle and raced 53 yards for the clinching touchdown.
The clock showed 1:36 remaining and Haskell's players and the homecoming crowd were stunned. Haskell had been bitten by its low margin-for-error quotient.
"We can't afford to get a penalty, we can't afford to get a sack, we can't afford to put the ball on the ground," HINU coach Eric Brock said. "Our kids play hard, but we don't have 4.3 (speed) kids who can help us recover from mistakes."
Avila (2-5) was only the second Heart of America Athletic Conference team Haskell has ever played, and the Indians proved they belonged on the same field with a school from an upper-echelon NAIA conference.
"We played a team from the HAAC good enough to win," Brock said. "We played Friends, a team favored to win the KCAC, good enough to win."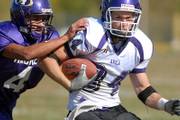 Earlier this season, Friends University edged the Indians, 7-3, in Wichita. And the Indians dropped a 21-19 decision to South Dakota Mines after a long bus ride to Rapid City, S.D.
"So far it's been one of those seasons," said senior defensive end Blaine Wise, who had a pair of sacks Saturday. "Here and there a mistake on our part hurts us."
Avila might have been the team trailing in the fourth quarter if the Indians hadn't surrendered a 93-yard kickoff return for a touchdown in the second quarter to sophomore speedster Brian Witt.
"That was just a great athletic play," Brock said of the first TD return the Indians have allowed this season. "I asked our coaches upstairs about it, and they said the kid just made a great play."
Foreshadowing for a late Haskell comeback had occurred just before halftime when Dick's one-yard TD run with just 24 ticks remaining enabled the Indians to pull within one point.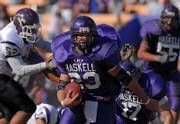 But history didn't repeat late in the fourth quarter and now the Indians face three straight road games, starting with a long journey next Saturday to Waxahachie, Texas, to meet Southwestern Assemblies of God U.
Avila 21, Haskell 13
Avila 0 14 0 7 - 21
Haskell 0 13 0 0 - 13
HINU - Terrance Benitez 32 pass from Marlon Dick (Matt Martens kick), 8:29 2nd
A - Brian Witt 93 kickoff return (Doug Wendell kick), 8:10 2nd
A - Victor Gray 13 run (Wendell kick), 2:34 2nd
HINU - Marlon Dick 1 run (Martens kick blocked), :24 2nd
A - Brandon Holliwell 53 run (Wendell kick), 1:36 4th
Haskell Individual Leaders
Rushing: Bubba Wills 27-99, Jacob McLeod 2-8, Nick Crisp 1-6, Hunter Smith 1-1, Marlon Dick 8-(-40).
Passing: Marlon Dick 15-27-165 (one intercepted).
Pass receiving: Hunter Smith 6-50, Terrance Benitez 3-54, Nick Crisp 2-25, Brigham Bert 1-14, Bubba Wills 1-11, Sivei Martin 1-9, Avery Thomas 1-8.
Copyright 2018 The Lawrence Journal-World. All rights reserved. This material may not be published, broadcast, rewritten or redistributed. We strive to uphold our values for every story published.