Boston — Boston College walk-on Steve Aponavicius never showed a hint of hardship against Virginia Tech, delivering a perfect kicking performance in his football debut.
It was only after the game that the left-footed soccer convert allowed his aw-shucks inexperience to show through.
"All of it was fun. Every minute of it," he said Thursday night after making two field goals and two extra points to lead Boston College to a 22-3 victory over No. 22 Virginia Tech. "I just wanted to go out and enjoy it."
Overdressed for the postgame news conference in a coat and tie, the fresh-faced kicker followed his breakout performance by cracking up his teammates and the assembled reporters. Asked if Aponavicius needed a primer in the usually staid postgame routine, safety Ryan Glasper said, "He's just having fun."
"He's unique," Glasper said. "We talked to him all week about how everyone's given an opportunity. This was his opportunity. We had the confidence in him to do the job."
The BC defense forced four turnovers to send the Hokies to their second consecutive loss. Boston College (5-1, 2-1 Atlantic Coast Conference) is a North Carolina State desperation pass away from being unbeaten.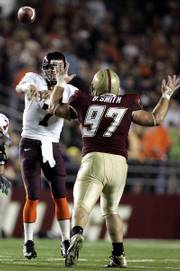 Virginia Tech (4-2, 2-2) has lost consecutive games since rising to No. 11 in The Associated Press Top 25. The Hokies also fell to 12-2 in Thursday night games on ESPN; both losses were to BC - one in Blacksburg, one in Chestnut Hill - 11 years apart.
"It's a big win on Thursday night against a program that's owned Thursday night," BC coach Tom O'Brien said.
Matt Ryan was 16-for-29 for 174 yards and two touchdowns despite limping through much of the second half on a previously injured ankle.
No. 12 Clemson 63, Temple 9
Charlotte, N.C. - James Davis ran for 138 yards and three touchdowns on nine carries - all in the first half - to help No. 12 Clemson rout Temple 63-9 on Thursday night.
C.J. Spiller added 73 yards rushing and two scores and Will Proctor threw for 150 yards and two touchdowns for the Tigers (6-1), who scored touchdowns on their first nine possessions and had 559 yards offense in their fifth straight victory.
Davis, Proctor and most of the starters sat out the second half, when fourth-string running back Chris Chancellor rushed for 114 yards and a TD as the Tigers set a school record by scoring over 50 points for the fourth time this season. But the opponents rank among the worst defenses of the 119 schools in Division I-A.
Copyright 2018 The Associated Press. All rights reserved. This material may not be published, broadcast, rewritten or redistributed. We strive to uphold our values for every story published.