Inside the small, upstairs gym at Lawrence Memorial Hospital, Jim Schubert walked from weight machine to weight machine, giving demonstrations.
He slid back on the leg press machine and did a couple reps to show how the thing works.
"You do that about 15 times," he explained. "My doctor told me I should do it."
On Wednesday, one of his doctors told him something else: Happy 90th birthday.
OK, Schubert isn't exactly 90. He'll turn 92 in February. But exercise physiologist Vic White still wished him a happy birthday. On Wednesday, at the hospital's Kreider Rehabilitation Services, there was a celebration for the small, but dedicated group of people nine decades young and still lifting weights and hitting the treadmill.
"With the elderly, their big prescription is to keep it moving," said Winnie Gallup, whose husband, Al, was a 90-year-old "birthday" observer.
State officials agree. This year, the Kansas Department on Aging started a new program designed to keep the elderly active and fit. The program, called Seniors Together Enjoying Physical Success, or STEPS, will offer physical fitness classes and programs in smaller communities around the state.
Currently, the program is only in three Kansas communities - Topeka, Oberlin and Great Bend, said Barb Conant, spokeswoman for the department.
Though the program likely won't show up in Lawrence, some experts said there is a need for these types of programs statewide.
"Certainly, nationally and in Kansas, older adults are the least active portion of our community," said Melissa Bopp, a kinesiology professor and researcher at Kansas State University.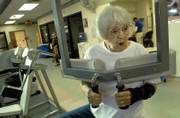 In Kansas, according to a 2005 state survey, about 62 percent of adults 65 and older don't exercise as much as the government recommends - about a half-hour five days a week.
Those numbers aren't good - but data shows they may be improving. In 2003, more than 68 percent of older adults in the state didn't exercise as much as recommended. That means in 2005, there were almost 20,000 more active seniors than just two years earlier.
Bopp said the change may stem from a couple different factors. First, she said, life and community transitions - from work to retirement, or from home to a retirement community - often afford people the time and opportunity to exercise more.
"That's going to advance the likelihood of being physically active," Bopp said.
Frances Fischer, who also celebrated at the hospital Wednesday, said that though she's exercised for years, her regimen has picked up since she retired.
"When you have a job, it's kind of hard to work it in," Fischer said.
Another possible factor in the increase, Bopp said, is up for debate.
The theory is that today's older retirees typically lived and worked in more active ways - walking to school and around town, working more labor-intensive jobs.
In retirement, she said, that generation hasn't put a premium on regular exercise.
A prevailing thought among retirees, Bopp said, is "What do you mean I have to be active?"
But as the ranks of retirees have begun including members of the baby-boom generation, the numbers of seniors turning up in gyms and fitness programs may be increasing. Baby boomers were more used to working in offices and exercising at gyms and are more likely to continue those habits in retirement, or so it is believed.
"It's a generation that's a little more familiar with regular exercise," Bopp said.
At the hospital's fitness center, about 130 seniors show up at least once a week to work out, either on their own or after a doctor's recommendation, White said.
He said centers like the one at the hospital are essential for many seniors, as the rigors and atmosphere of a typical gym don't fit seniors' lifestyles.
"There aren't a lot of facilities seniors feel safe in," he said.
Aside from physical fitness, White and others said that a gym atmosphere provides social and mental support - giving many seniors activity and allowing them to continue living in their own homes.
"It's for them to maintain a certain independence," White said.
For the past two years, Jim Schubert said he's felt that feeling. He comes to the gym about twice a week when he isn't playing golf - and he said he doesn't relate to people his age who don't want to work out.
"Some people don't want to bother with it," he said. "They don't appreciate it's value, I guess."
Copyright 2018 The Lawrence Journal-World. All rights reserved. This material may not be published, broadcast, rewritten or redistributed. We strive to uphold our values for every story published.