Editor's Note: This is the last story in a five-part series about how Douglas County residents benefit from the 26 United Way agencies. Today, we look at ARC of Douglas County, one of eight agencies that provide counseling, education and advocacy.
Kansas University graduate Denise Gossage moved to Lawrence in hopes of finding better care and services for her son Frank, who has a pervasive developmental disability that is similar to high-functioning autism.
Gossage moved in 2001 from New Mexico, where Frank was born. Her husband, Steve, also a KU graduate, still lives there because of his work, but plans to retire in Lawrence with his family.
"I've been real happy with how things have gone," Denise Gossage said of the services and help that Frank, 19, has received here.
Such providers include ARC of Douglas County, a United Way agency, that offers advocacy, education, service coordination and support services for people with developmental disabilities.
ARC is providing Frank with service coordination and Positive Behavior Support (PBS) services at a critical time in his life. Frank graduated from Free State High School in 2005 and then spent a year at Lawrence High School as a transition student. In July, he finished his schooling and now is looking for a full-time job and working to be independent.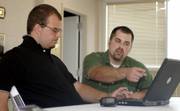 "The ultimate goal is for Frank to be as independent as possible," said Matt Enyart, who works with Frank and is director of support services at ARC. "The outcome is for him to be happy and independent."
Help wanted
Enyart visits Frank about once a week and works with him on developing social skills and becoming independent. Enyart and Denise Gossage have made a list of chores for Frank to do, such as walk the dog and clean his room. Enyart takes Frank out to eat a couple times a month to teach him things such as portion control, table manners and "keeping his cool."
"He has lived with his mom his entire life, and that relationship has changed from mother/son to more like roommates," Enyart said.
Denise Gossage said her son would like to live on his own or with a roommate.
Enyart said ARC is "right in the thick" of trying to find a supportive home care worker for Frank - someone who would work with him daily. He said finding that worker has been challenging and frustrating.
Similar services
Other United Way of Douglas County agencies that provide counseling, education and advocacy: ¢ Catholic Community Services provides counseling services, pregnancy counseling and a support program for low-income mothers of all faiths. 841-0307. ¢ Douglas County AIDS Project provides services to people infected and/or affected by HIV and/or AIDS. 843-0040. ¢ Douglas County Legal Aid Society is a legal services clinic for low-income persons in Douglas County. 864-5564. ¢ GaDuGi SafeCenter offers 24-hour crisis advocacy services, community and school awareness, and professional training regarding sexual violence. 843-8985. ¢ Headquarters Counseling Center provides counseling and information for any personal concern. It offers children's safety programs and assistance to groups after traumatic events. 841-2345. ¢ Housing and Credit Counseling Inc. provides services and classes for tenant/landlord issues. It also offers consumer credit counseling. 749-4224. ¢ Women's Transitional Care Services Inc. is a refuge for battered women and their children. 843-3333.
"It's an ongoing issue that is not unique to just Frank," Enyart said. "Everybody right now is looking for people. It's just there really isn't a clearinghouse of people who want to do that."
Enyart says "lousy funding" is the main reason there are not enough supportive home care workers.
"You are paying people who are responsible for independent living skills and helping with the PBS program and they are making $7.50, $8 bucks an hour. ... It's hard to bring them in for that low of pay," Enyart said.
Despite not having the daily help Frank needs, Denise Gossage said she has seen improvement in Frank's relationship with the people around him thanks to the help he has received from the Lawrence school district and ARC.
"They (ARC) have really good, caring, confident people working there," she said. "They will do everything they can to help you."
Facing challenges
ARC marked its 50th anniversary in August with a '50s-style sock hop at Maceli's, 1031 N.H. The group was started in 1956 by nine Douglas County couples who sought better opportunities for their children.
Barb Bishop, executive director of ARC, said the agency now manages cases for about 55 families and provides advocacy for an additional 20 families. It also has several educational seminars during the year.
Bishop said ARC has five full-time staff members and one part-time employee, and the agency's yearly budget is about $200,000. It receives funding from the United Way and individual donors. It also receives reimbursement through Medicaid.
Enyart said the agency needs additional funding.
"In the '90s, things were fairly rich and there seemed to be ample services to go around, and there were a lot of opportunities for new programs," he said. "In the 2000s, that has not been the case. It (funding) has dropped and we have lost services, lost programs, lost networks that used to be there.
"ARC is definitely on the rise again as far as trying to make a difference and advocate for system changes to better serve people with developmental disabilities for children and adults."
Copyright 2018 The Lawrence Journal-World. All rights reserved. This material may not be published, broadcast, rewritten or redistributed. We strive to uphold our values for every story published.