NEWPORT NEWS, VA. — With two presidents - her father and brother - standing beside her, Dorothy Bush Koch christened the last of the Nimitz-class of aircraft carriers Saturday with a single swing of a bottle of sparkling wine.
"I christen thee George H.W. Bush," Bush Koch said before she cracked the bottle against a metal support on the ship's bow in a dry dock at Northrop Grumman Newport News just after a shipyard siren sounded at 11:15 a.m.
"May God bless her and all who sail her."
The bottle strike sent fizz onto the carrier's hull, followed by smiles, hugs and handshakes between Koch Bush, her father, brother and shipyard president Mike Petters.
George Herbert Walker Bush, the Navy's youngest commissioned pilot during World War II and president from 1989 to 1993, became the first living president to attend the christening of a carrier named after him.
"This is any Navy aviator's dream come true," the former president said. "This is magnificent. These shipbuilders are the best the United States could possibly have. I salute every single one of you."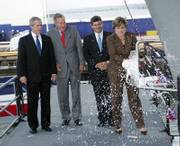 About 12,000 workers at Northrop Grumman Newport News have worked on the carrier since early purchases began in 1998 - up to 4,500 at any one time. The warship is to be delivered to the Navy in late 2008.
The 1,092-foot nuclear-powered carrier, decorated for the occasion with red, white and blue bunting, sat on keel blocks in the water in the shipyard's giant Dry Dock 12.
Thousands of people - including many former Cabinet members in the first Bush administration - turned out despite sporadically heavy rains, high winds and the occasional roar of thunder.
The christening marks the occasion when the ship is ready to float. Most of the event took place on barges in the dry dock, which has been flooded with millions of gallons of water, before today's move to a new outfitting berth on the James River.
President George W. Bush, who gave the keynote address and introduced his father, raved about the vessel: "She is unrelenting, she is unshakeable, she is unyielding, she is unstoppable. In fact, she should have been named the Barbara Bush."
On a more serious note, he said, "On this proud day, the children of George H.W. Bush bless their father's name, the United States Navy honors his name and the ship that bears his name sails into this young century as a symbol of American strength and freedom."
Copyright 2018 The Lawrence Journal-World. All rights reserved. This material may not be published, broadcast, rewritten or redistributed. We strive to uphold our values for every story published.