For some it was special, a group adventure. Some just went partway, enough to get in on the experience.
And to others Wednesday, it was sort of, well, pedestrian.
"I didn't even know it was 'Walk to School Day.' We walk to school every day," said Dana Atwood-Blaine, who escorts her son, Aidan, to Schwegler School each morning.
Aidan, a kindergartner, explained what he had found Wednesday morning along the two-block route to his school, 2201 Ousdahl Road.
"A plastic leaf," he said, shyly ducking behind his mom's leg.
"And what did you pick up?" his mother asked.
"A battery," he said.
City and school officials want to pick up their own treasures from the event: nuggets of information from parents to help improve the safety of the city's walkways.
The officials hope Wednesday's International Walk to School Day will go hand-in-hand with a "walkability survey" they recently sent home to parents.
"We want to get an idea of what everything is like as far as our sidewalks, safety and those kind of things," said Rick Gammill, director of special operations for the Lawrence school district.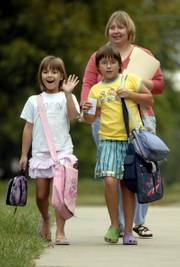 Gammill, a member the city's Pedestrian Advisory Committee, said the panel would use the information to seek funds from the Kansas Department of Transportation.
The parent survey results will be turned over to city traffic engineers, who will seek a Safe Routes to School federal grant through KDOT, said Gwen Klingenberg, another member of the pedestrian committee.
"This plan will be to create safe routes, walkable ways to get kids to and from schools," Klingenberg said. "It would get them through bad intersections, busy streets and take a look at where there are sidewalks that are missing."
A KDOT representative will meet with the pedestrian committee next month to explain the grant, she said.
"It does let us know if there are gaps in the sidewalks, if there are streets that are too scary for kids to get across," she said.
Probably only one or two schools will be considered for the grant, "but it's a start," she said.
Back at Schwegler, Atwood-Blaine, who filled out the survey, said there are sidewalks only halfway from her home to the school.
"On 21st Terrace, there's no sidewalks," she said. She and her son must walk in traffic and around parked cars, she said.
"Sometimes we have to walk kind of in the middle. It's kind of narrow," she said.
Sheena Koehn, whose daughter, London, is a sixth-grader at Schwegler, walked with several neighbors for about 1.5 miles from Atchison Avenue south to Clinton Parkway, then east to Ousdahl Road.
"It was a good experience. We had a lot of fun," Koehn said. "We walked down Clinton Parkway, and along that path the sidewalks were good and even and weren't muddy or anything like that."
Even crossing Clinton Parkway at Iowa Street - one of the busiest intersections in the city - wasn't bad because of the crosswalks and traffic lights, she said.
"There was enough time," she said. "We didn't feel like we had to rush. I didn't feel like we were fleeing for our lives."
Another parent, Sheri Boxberger, said she parked a couple of blocks from Schwegler so her two children - Elyse, a fourth-grader, and Gretchen, a second-grader - could participate in the walking event.
Copyright 2018 The Lawrence Journal-World. All rights reserved. This material may not be published, broadcast, rewritten or redistributed. We strive to uphold our values for every story published.