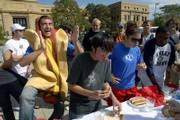 Matthew Casaletto rubbed his stomach Monday after learning the hard way that without guts there is no glory.
"I wish I could have some Pepto-Bismol," he said.
The Kansas University freshman was top dog in KU's Feed Your Beak Hot-Dog-Eating Contest on Wescoe Beach. The event was among the first of this week's homecoming festivities.
Casaletto wolfed down four hot dogs, with buns, in 3.19 minutes, beating about a dozen competitors.
Casaletto said he had sized up the competition before the contest and knew he had more stomach for the wieners than the others.
"I took a look around," he said. "I saw the fear in their eyes."
The homecoming party continues today with "KU Can-struction," a contest that involves building giant sculptures out of cans from 10 a.m. to 2 p.m. on Wescoe Beach.
Jayhawk Idol contestants will perform at noon on Wescoe Beach. And comedian Kathy Griffin will perform at 7:30 p.m. tonight at the Lied Center.
For a full list of events, visit www.homecoming.ku.edu.
Copyright 2018 The Lawrence Journal-World. All rights reserved. This material may not be published, broadcast, rewritten or redistributed. We strive to uphold our values for every story published.