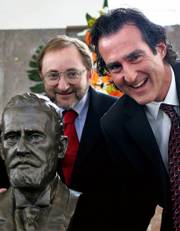 New York — Two Americans won the Nobel Prize in medicine Monday for discovering a way to silence specific genes, a revolutionary finding that scientists are scrambling to harness for fighting illnesses as diverse as cancer, heart disease and AIDS.
Andrew Z. Fire, 47, of Stanford University, and Craig C. Mello, 45, of the University of Massachusetts Medical School in Worcester, will share the $1.4 million prize.
They were honored remarkably swiftly for work they published together just eight years ago. It revealed a process called RNA interference, which occurs in plants, animals and humans. It's important for regulating gene activity and helping defend against viruses.
It is "a fundamental mechanism for controlling the flow of genetic information," said the Karolinska Institute in Stockholm, Sweden, which awarded the prize.
At least two Kansas University researchers have ties to the prize winners.
Erik Lundquist, associate professor of molecular biosciences, worked with Fire on a developmental biology project after both researchers discovered they were interested in the same gene, SIX5. They published a paper on their findings in 2004.
Lundquist commended Fire's work on the RNA interference process.
"What he discovered was an unknown, almost ubiquitous mechanism of gene regulation," Lundquist said.
Lisa Timmons, KU assistant professor of molecular biosciences whose lab studies RNA interference, was a post-doctoral fellow in a research group led by Fire at the Carnegie Institute from 1998 to 2001.
"Their discovery stemmed from a simple, but elegant experiment," she said. "It really emphasized the value of cleverness in a new discovery."
Since the discovery, scientists have already made RNA interference a standard lab tool for studying what genes do. And they're working to use it to develop treatments against a long list of illnesses, including asthma, cystic fibrosis, diabetes, flu, Parkinson's and Huntington's diseases, and age-related macular degeneration, a major cause of blindness.
Nobel prizes are generally awarded decades after the work that they honor, so a prize now for a finding published in 1998 is striking.
Monday's prize was the first Nobel of this year, to be followed by the awards for physics, chemistry, literature, peace and economics.
Copyright 2018 The Lawrence Journal-World. All rights reserved. This material may not be published, broadcast, rewritten or redistributed. We strive to uphold our values for every story published.