Brasilia, Brazil — Military helicopters lowered a rescue team by rope Saturday into the remote Amazon jungle site where an airliner slammed into the ground, but authorities held out little hope of finding survivors among the 155 people on board.
The team began clearing dense vegetation near the wreckage site so a helicopter could land.
"There's little indication of survivors, but we won't rule out the possibility," Brazil Air Force Brig. Gen. Antonio Gomes Leite Filho said Saturday evening at a news conference. "We haven't fully explored the crash scene; it's a very complicated area."
Officials suspended the search after sundown Saturday, citing difficulties to access the location at night. They would resume at daybreak today. Filho said search-and-rescue operations would continue until authorities are sure there are no survivors.
The president of Brazil's airport authority, Jose Carlos Pereira, said the Boeing 737-800 jetliner and a private jet clipped each other before the crash of Gol airlines Flight 1907. He said the Gol flight from the jungle city of Manaus en route to Brasilia and Rio de Janeiro struck the ground traveling at more than 300 mph.
"At that speed it is highly unlikely any survivors will be found," Pereira said.
Nobody on the smaller plane, which was carrying a New York Times columnist, was injured.
Air force helicopter pilots hovering over the crash site saw no signs of an intact fuselage and the debris appeared to cover only a small area.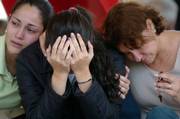 If no survivors are found, it would be the deadliest air accident in Brazil's history. In 1982, a Boeing 727 operated by Brazil's now-defunct Vasp airline crashed in the northeastern city of Fortaleza, killing 137 people.
The wreckage was found near a cattle ranch, 1,090 miles northwest of Sao Paulo in the state of Mato Grosso. The manager of the 49,500-acre ranch said the plane may have crashed inside the neighboring Xingu Indian reservation.
"We heard a loud explosion and some of our employees saw a plane flying low," the ranch manager, Milton Picalho, said by phone. "Judging from the direction the noise came from, I would say it crashed inside the reservation."
Pereira said the jetliner with 149 passengers and six crew may have collided with a Brazilian-made Legacy executive jet or the two aircraft may have grazed each other.
"There was some kind of contact between the two aircraft and it is highly probable that this was the cause," he said. "But we will only be absolutely certain after a full investigation.
"The main question the investigation must address is how can this happen with two ultramodern aircraft with collision-preventing equipment," he said.
The smaller plane, which carries up to 16 passengers, was making its inaugural flight to the United States, where it had been purchased by an American company, said its manufacturer, Embraer. It made an emergency landing, but no one on board was hurt, said Jose Leonardo Mota, a spokesman for Brazil's airport authority.
New York Times spokeswoman Diane McNulty said Times business travel columnist Joe Sharkey was one of seven people aboard the Legacy jet.
Copyright 2018 The Associated Press. All rights reserved. This material may not be published, broadcast, rewritten or redistributed. We strive to uphold our values for every story published.