A Lawrence woman died and six others went to the hospital Wednesday after a two-car wreck in icy conditions on Interstate 70, according to the Kansas Highway Patrol.
A Mitsubishi Eclipse, headed west near mile marker 188, went out of control just before 11 a.m., crossed an unbarricaded median and slid sideways into the path of an eastbound Chrysler minivan, according to a Kansas Turnpike Authority report.
Elizabeth Rae Dominguez-Santos, 24, was killed while riding in the passenger seat of the Eclipse, according to the Turnpike Authority.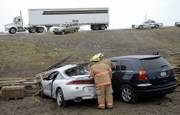 The Eclipse's driver, Cesar Flores-Espinabarro, 23, Lawrence, suffered injuries to his face, head and right side and was in critical condition Wednesday night at Stormont-Vail Regional Health Center in Topeka. Two other passengers, Reguera Flores-Socrates, 37, Lawrence, and Nicolas Tomas-Alejandro, 20, Lawrence, were treated at Stormont-Vail and released.
The driver of the Chrysler was identified as 28-year-old Pamela J. Martinez, Manhattan, with passengers Stephanie L. Bolender, 33, Kamas, Utah; and Jackson R. Bolender, 3. They all were taken to St. Francis Health Center, where they were treated and released.
The Kansas Highway Patrol said the road conditions were a factor in the wreck. Freezing rain had begun to fall in the area around the time it happened.
Eastbound traffic was partially blocked afterward while crews cleared the scene.
- The Associated Press contributed to this report.
Copyright 2018 The Lawrence Journal-World. All rights reserved. This material may not be published, broadcast, rewritten or redistributed. We strive to uphold our values for every story published.