Quito, Ecuador — The leader in Ecuador's presidential election Monday repeated his promise to end the U.S. military's counternarcotics operations out of an airport in Manta, while his rival cried fraud.
Four exit polls, including one from the Organization of American States (OAS), found that Rafael Correa, a leftist economist with a doctorate from the University of Illinois, won Sunday's runoff election by at least 13 percentage points. The OAS had 80 observers here, and its counts are traditionally very close to the actual results.
The Supreme Electoral Tribunal, Ecuador's electoral governing body, late Monday had Correa winning 65 percent of the vote to Alvaro Noboa's 35 percent, with 58 percent of the votes counted.
Nonetheless, Noboa, the billionaire who has failed to win runoffs on two other occasions, accused Correa of rigging the exit poll results and indicated he would await official results and perhaps file a request for a manual recount.
Correa meanwhile began sketching his upcoming administration - which would include leftist academics, human rights defenders and former oil workers as Cabinet members - and his future relationship with Washington.
Correa is seen as a strong ally of Venezuelan President Hugo Chavez, with whom the Bush administration has chilly relations. One of Chavez's first acts when he became president in 1999 was to prohibit U.S. counternarcotics aircraft from patrolling Venezuelan airspace.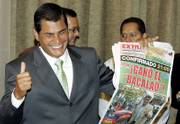 On Monday, Correa reiterated his vow not to renew a contract that ends in 2009, which grants the U.S. government the right to conduct counternarcotics operations from an airport in the Pacific port of Manta, about 140 miles southwest of Quito.
A spokesman at the Pentagon's Southern Command in Miami said Monday the U.S. government hopes it will be able to continue counterdrug operations from Manta, where it has four U.S. military aircraft.
"Ecuador is a democratic nation and the new leadership was democratically elected," said Jose Ruiz, a civilian spokesman at the U.S. headquarters for military operations in Latin America and the Caribbean.
"We have a good relationship with Ecuador, rooted in our shared values and in democracy," he added. "So we are hopeful that we can continue our good relationship with Ecuador."
Southcom set up its "forward operating location" in Manta in 1999 as part of an effort to replace military operations run out of the Howard Air Force Base in Panama, which closed in advance of the U.S. relinquishing the Canal Zone. It also has similar arrangements in El Salvador, Aruba and Curacao.
In November 1999, Ecuador's then-Foreign Minister Benjamin Ortiz signed a 10-year pact with then U.S. Ambassador Richard Brown to let U.S. forces use Manta.
Since then, Ruiz said, the United States has spent about $70 million on improvements at the mixed civilian and military airport in the city of about 200,000.
The agreement has a cancellation clause, but Correa has said he will wait until it expires in 2009. Ruiz said the U.S. pays the government of Ecuador no lease fee.
Copyright 2018 The Lawrence Journal-World. All rights reserved. This material may not be published, broadcast, rewritten or redistributed. We strive to uphold our values for every story published.