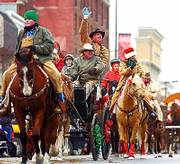 Radio stations start up the holiday music Nov. 1. Retailers put out their Christmas wares before Halloween's over.
But it's the Lawrence Old-Fashioned Christmas Parade that kicks off the holiday season in town, if attendance is any indication.
"(Last year) I'd say we had about 8,000 people, which is a little smaller than the year before because it was really cold but still, that's a great crowd," says Jana Dobbs, of CornerBank, the title sponsor for the event. "It's such a unique event for Lawrence."
And as the attendance and entries increase for the 14th annual event, which starts at 11 a.m. Saturday, organizers have undergone efforts so the parade will continue as a longtime tradition.
"We've formed a limited liability company just for the Lawrence Old-Fashioned Christmas Parade," says Dobbs, a senior vice president at the bank. "We're trying to broaden community support for the parade to ensure it remains a long-standing event."
The parade was in jeopardy in 2004 when the Eldridge Hotel, its major sponsor, went into bankruptcy and was sold. Rob Phillips, the hotel's former owner, said he would not continue the tradition. CornerBank stepped in to keep the event going, and now several companies have joined the LLC to solidify their support.
Dobbs mentioned the Lawrence Chamber of Commerce, Downtown Lawrence Inc., Zarco 66, Kennedy Glass, Schumm Foods, Bradley Farms, the Eldridge Hotel and the World Company, which publishes the Lawrence Journal-World, as new partners in the venture.
Past Event
When: Saturday, December 2, 2006, 11 a.m.
Where: Downtown Lawrence, Lawrence
-->
-->
The financial backing is important, Dobbs says, to continue encouraging participants for the all horse-drawn entries.
"There's a lot of expense for folks coming in, what with the travel and some having to take the day off. We want to make it as easy as possible for them so they'll continue to make our event special," she says.
Parade entrants are put up at various hotels for the night, and they're served dinner the day before the parade at the Knights of Columbus Hall, 2206 E. 23rd St. Organizers provide breakfast at the Douglas County 4-H Fairgrounds on the day of the event, too.
Exciting sights
Dobbs indicated there would be new features to enjoy, even for longtime attendees of the parade.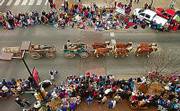 "We had more than 120 entries last year and expect to have at least that many this year," she says. "A lot of our favorite entries will be back, and we'll have a new sleigh this year that will pull Santa in. We think that'll be a real crowd-pleaser to bring Santa in on a sleigh instead of a wagon."
Dunns Landing, in Wellsville, is bringing in the sleigh so Santa can travel in style.
"I've been there for years and know a lot of people, so they talked with me about helping," says Robin Dunn, owner of the farm and special events site. "It'll be something new and different."
Dunn has been a part of the parade for nearly a dozen years.
"The people are so great, and it's all horse-drawn. You could says it's horse-friendly," she said. "Most parade aren't.
"This one is fun, and I think it's one of the nicest in the U.S."
Phil Bradley, who has assisted with parade planning the last five years, agrees the event is a special kickoff to the holiday season.
"It's a wonderful opportunity to see something you don't see very often," he says. "These people who come are amazing. They bring their rigs, their horses - everything is lovingly maintained, and it's history you see in front of you."
Copyright 2018 The Lawrence Journal-World. All rights reserved. This material may not be published, broadcast, rewritten or redistributed. We strive to uphold our values for every story published.