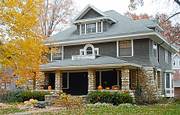 Last year's Holiday Homes Tour was a fundraising first for the Health Care Access Clinic, raising nearly $8,000.
As the agency stages its second tour Dec. 3, the fundraiser will be even more important for health clinic's vital signs.
Health Care Access received $38,000 less this year from the Legislature, as funding was distributed among a greater number of counties in need.
"That makes the tour very important for us," says Misty Harris, event coordinator. "But it goes beyond raising funds. The event raises a lot of awareness about our organization."
Health Care Access, 1920 Moodie Road, is a nonprofit clinic that offers or facilitates medical services for those residents not covered by private or government insurance programs.
In 2005, the clinic served 1,177 patients, a 23 percent increase since 2004.
The Holiday Homes Tour, which runs from 2 p.m. to 6 p.m., not only helps support the clinic, it offers the curious a chance to see the interior of a variety of Lawrence homes in different parts of the city.
"It's fun to see how people decorate for the holidays, and our participants decorate in very different ways," Harris says. "When you get a glimpse of someone's home, you can tell it's unique, even just from the outside."
Past Event
When: Sunday, December 3, 2006, 2 p.m. to 6 p.m.
Where: Health Care Access Clinic, 330 Maine Street, Lawrence
Cost: $10
-->
-->
Among the homes on this year's tour will be the residence of Jim and Carol Roberts, who live in Hobbs-Taylor Lofts.
"Julie Manning (an event coordinator) had come up to see the loft during a party, and when Health Care Access was for looking for places to feature, she suggested it," Carol Roberts says. "I'm delighted to help out the organization. I worked on United Way and got to tour it and learn about the health care facility ... that's why I did it."
Carol and her husband travel a lot, which is one of the reasons they moved to Hobbs-Taylor Lofts.
Their residence is in the southwest corner of the fifth floor of the building at Eighth and New Hampshire streets, with a view of downtown.
Her plans for decorating the loft, which she'll begin right after Thanksgiving, call for a nontraditional look - Carol hopes to find a silver tree this year, preferably tall and skinny for their loft space.
"Otherwise, I'll use a white metal tree, but regardless, it will look nontraditional," she says.
This year also will feature the home of Brad and Susan Tate home in Old West Lawrence, whose house is 100 years old.
Susan Tate describes it as a prairie-style house built by a downtown merchant in 1906, featuring a four-square design.
"Since we bought it over seven years ago, we have expanded the kitchen and added a bath in what we consider to be the 21st-century equivalent of 'prairie style,' clean and modern lines and open space," she says.
Susan describes their Christmas decorations as traditional.
Tickets for the event can be purchased at the clinic; Hy-Vee Food Store locations, 3504 Clinton Parkway or 4000 W. Sixth St.; Emprise Bank locations at 2435 Iowa or 1121 Wakarusa Drive; Lawrence Memorial Hospital Gift Shop, 325 Maine; Sigler Pharmacy, 4525 W. Sixth St.; the Lawrence Memorial Hospital Gift Shop, 325 Maine, or online at www.healthcareaccess.org.
. The $10 admission includes a calendar of the seven homes on the tour.
Copyright 2018 The Lawrence Journal-World. All rights reserved. This material may not be published, broadcast, rewritten or redistributed. We strive to uphold our values for every story published.