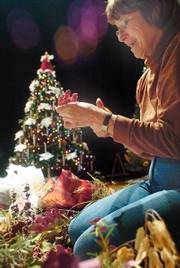 When her husband volunteered at the Boys and Girls Club, Janine Colter never guessed how much joy it would bring to her life.
She never guessed it would bring her a son.
As the coach of the boys basketball team, her husband had developed a relationship with John, a 13-year-old orphan who played on the team. One night, John came over for dinner, and Colter was struck by how well he fit in with her other two children.
"I just thought, 'What a great kid,'" Colter says, explaining that the feeling grew stronger over the course of months. "Finally, I was like, 'Gosh, what's going to happen to this young man when he graduates and there's no one there?'"
Colter and her husband decided their family would be more complete if John were always around.
It's been nine years since the Colters adopted John, and Janine Colter continues to lend a hand for The Shelter Inc., a local organization serving women and children by providing crisis intervention and foster and adoption services. Colter will be honored as this year's "unsung hero" for The Shelter's 20th annual Festival of Trees, a fundraiser where local groups and residents compete to donate the most original and best-decorated Christmas trees, which are displayed for a week and auctioned off.
Last year the event raised $45,763, and though the event is one of the primary fundraisers for The Shelter, Colter knows there are still many children who need support and love, and that requires a human touch.
"The old theory is, 'It takes a community to raise a child' - we're just trying to do our part," she says.
By telling people about her son John, Colter hopes more people will realize how many children need their help, and how much joy the children can bring.
"I think the blessing that people don't understand has come to us. John has brought a lot of joy to our family. Just to see his successes in life is rewarding enough," she says. "The thing that really, truly catches me just in awe is because that is my child."
The Shelter continues to grow each year, bolstered by the support of people like Colter and sponsors within the community. This year's Festival of Trees has 10 sponsors, more than ever, and Judy Culley, director of The Shelter, says the event is an affirmation to those who work hard for the organization, rejuvenating them for another year ahead.
"We get to the Festival of Trees and we see how many people in the community are really out there wanting to help support children and help support our work with children," she said. "It kind of renews us."
Lately, The Shelter's success has led to planning for what might be a substantial expansion. But for Culley, the success of such an organization is bittersweet.
"I can't imagine that we aren't going to find that there are things that children need," Culley said. "And things we want to do to help them.
"It would be great if we could work ourselves out of a job, but I don't think we will."
Copyright 2018 The Lawrence Journal-World. All rights reserved. This material may not be published, broadcast, rewritten or redistributed. We strive to uphold our values for every story published.