Topeka — An area Christmas tree farm made a special delivery Monday.
Harry and Juanita Peckham, of Rantoul, picked a 15-year-old Scotch pine from their 6-acre Memory Lane Christmas Tree Farm and delivered it to Cedar Crest, the governor's mansion.
"It's quite an honor to get to deliver the tree," Juanita Peckham said.
The perfectly shaped, 9-foot-tall tree was transported up the mansion's driveway on a red carriage drawn by two Belgian horses and then placed in the living room.
Harry Peckham said the tree had been groomed for about a decade at the Franklin County farm.
"It's not a get-rich-quick scheme," Harry Peckham said of his Christmas tree business, which he opened in 1999. "It takes seven to eight years from the time you plant a tree until it gets to be salable size."
It wasn't the only special Christmas tree delivery Monday.
Area Douglas County tree farms donated Christmas trees to the Trees for Troops program. The effort sends trees to members of the military and their families at bases in the U.S. and overseas.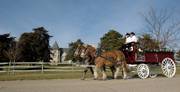 "It's honoring our servicepeople for the work that they're doing and it's in the Christmas spirit," said Eric Walther, of Strawberry Hill Christmas Tree Farm, who donated 10 trees.
Other farms that donated were Prairie Elf Tree Farm, owned by Kathy and Jeff Heeb, near Lone Star, and Memory Lane Christmas Tree Farm. Twenty-three trees were donated in all.
The Trees for Troops program, put together by FedEx and the Christmas Spirit Foundation in conjunction with the National Christmas Tree Assn., plans to send more than 11,000 trees from at least 27 states to more than 20 U.S. military bases and to Iraq, Afghanistan, Kuwait and Qatar.
And it's not too early to start Christmas tree shopping.
Walther said customers began coming in over the weekend. The early birds, he said, mainly are families that celebrate Christmas early, perhaps because they celebrate the holiday two times with different sides of the family. Walther said he sold about a dozen trees.
Copyright 2018 The Lawrence Journal-World. All rights reserved. This material may not be published, broadcast, rewritten or redistributed. We strive to uphold our values for every story published.