Beirut, Lebanon — Hezbollah's leader urged his followers to prepare for mass demonstrations to topple the government if it ignores the militant group's demand to form a national unity coalition.
In a speech broadcast Sunday, Sheik Hassan Nasrallah railed against President Bush's administration, calling Secretary of State Condoleezza Rice a "bloodsucker" and claiming the current Lebanese government is a puppet of Washington.
He did not set a date for the anti-government protests, which he said should be nonviolent. But he told supporters and political allies to get ready to take to Beirut's streets for days or even weeks to force the resignation of the government.
"We, all of us, must be psychologically and morally ready to take to the streets. It is one means for the required movement," Nasrallah said in a speech Saturday, which was aired Sunday on Hezbollah's TV station Al-Manar.
"We do not want riots. ... We must respect private and public property. We will not allow any clashes even if (anti-Syrian groups) stage a counter street demonstration," he said. "We are capable of taking to the street and staying there for a day, two, or three, or a week, or two or three weeks, or for more or less until we eventually impose by our peaceful, civilized and democratic means the toppling of an illegitimate and unconstitutional government."
Political and sectarian tensions have been mounting in Lebanon as a result of a power struggle between rival factions intensified by Hezbollah's 34-day war with Israel this summer.
The Shiite guerrilla group, which is backed by Syria and Iran, has demanded the formation of a national unity government that would essentially give it and its allies veto power over major decisions. But negotiations among groups broke down last week, and six Cabinet ministers, including two from Hezbollah, resigned.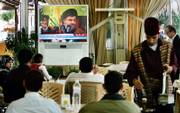 Nasrallah accused the government of Prime Minister Fuad Saniora, which is backed by the anti-Syrian parliamentary majority, of falling under the influence of the President Bush's administration. He said the government had become "illegitimate" and "unconstitutional" after the ministers resigned.
"This is the government of Feltman and not the government of Prime Minister Fuad Saniora," Nasrallah said, referring to U.S. Ambassador to Lebanon Jeffrey Feltman, who has repeatedly reaffirmed his country's support for the Saniora government. The remark drew applause and chants of "Death to America" from Nasrallah's audience made up of Hezbollah members charged with organizing the protests.
"We want to liberate our country from the hegemony of Ambassador Feltman and the bloodsucker Rice," he said.
Hezbollah has accused Rice and the Bush administration of foiling Arab efforts in the U.N. Security Council to arrange an early cease-fire in Israel-Hezbollah war, claiming Washington wanted to give Israel time to try to destroy Hezbollah's military infrastructure. The fighting ended with a U.N.-brokered cease-fire resolution on Aug. 14, and more than 1,000 people died on both sides of the border.
Lebanon's political crisis has deepened since late October when Nasrallah began threatening mass protests unless Hezbollah's demand for a national unity government was met.
Saniora, backed by the anti-Syrian coalition, has vowed to stay in power and refused to give veto power to Hezbollah and its allies.
Copyright 2018 The Associated Press. All rights reserved. This material may not be published, broadcast, rewritten or redistributed. We strive to uphold our values for every story published.