New types of lighting are creating new types of lamps today. LED, fluorescent and halogen lighting require special styles of holders for the bulbs, some suspended from the ceiling and some used in table or floor lamps. Grease, candles, whale oil and other burning fluids were used for light before the 1850s. Then Samuel Kier of Pittsburgh made lamps that burned kerosene, which was distilled from oil found on the ground. In 1859, Col. Edwin Drake drilled underground and found oil in Pennsylvania, and kerosene became an inexpensive light source. Special kerosene burners were used, sometimes in old lamps that were converted. The urn shape, required to hold the liquid kerosene, has been a popular lamp shape ever since, even though electric lamps, invented in 1879, no longer need kerosene.
Do you have any information on a bedroom set made by Mengel Man Permanized Furniture of Louisville, Ky.? We're wondering about age and value.
The name of the company was Mengel Furniture Co. It was founded in Louisville by C.C. Mengel some time after the Civil War. The company also made wooden boxes, toys, slides, doors, windows and, during the 1930s, subassemblies for auto bodies. Apparently, "Mengel Man" was a line of bedroom furniture the company made after World War II, but Mengel used the word "permanized" to advertise several of its postwar furniture lines. The company manufactured mostly bedroom sets, dining-room sets and living-room furniture. Mengel was bought by Kroehler Manufacturing Co. in 1956. Mengel bedroom sets in very good condition sell well.
Q: I own a pottery figurine of a kneeling nude. Her hand is outstretched to hold a flower stem, and there are eight holes around the base. It's signed "Walrath Pottery." What is it, and what's it worth?
A: Your figurine is a flower frog, a holder for flower stems. It originally was sold with a matching low bowl that held water. It was made by Frederick E. Walrath (1871-1921), today considered an early studio potter who did high-quality work. Walrath made pottery from about 1904 to 1921, the same years he worked as a ceramics instructor at three different American universities. But he made most of his pottery between 1908 and 1918, the years he spent teaching at the Mechanics Institute (now the Rochester Institute of Technology) in Rochester, N.Y. Your flower frog would sell for $300 or more, even without the bowl.
Q: My family has owned an upright piano for generations, and I'm hoping you can tell us how old it is and what it's worth. It might have been refinished. The name above the keyboard is "Francis Connor, New York." The metal plaque inside includes "Est. 1877" and the serial number, "11415."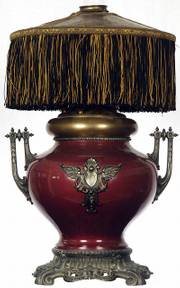 A: Francis Connor manufactured pianos in New York from the 1870s until at least the 1920s. The serial number on yours is not included on our list of the earliest Francis Connor pianos, but it probably dates from the 1890s. The value of an old piano does not depend on its age or maker. It depends on the condition and quality of the piano.
Q: Please help me figure out the age and value of my small four-sided Delft covered jar. It's marked in blue with a capital "F" below a drawing of a vase and above the handwritten word "Delft." Other marks include the initials "NdG." and "C.H."
A: Delft is a town in the Netherlands and is also a term used for a type of tin-glazed pottery, often blue and white, that was made in Delft and other areas of the Netherlands, and then in England, in the 1600s. Pieces marked with an F and vase mark were made beginning in 1884 at the Porceleyne Fles factory in Delft. The other marks on your jar help date it more precisely. In general, any piece marked with the word Delft dates from the 20th century. The C.H. mark is a date mark indicating that your jar was made in 1963, and the NdG. mark was used by Nico de Graf, an artist who started working at the Fles factory in 1963. The value of your jar depends on its condition, too. If it's in perfect shape, it could sell for $50 to $100.
Q: Could you please describe the difference between "crimped" and "double-crimped" Fenton glassware?
A: A crimped Fenton bowl is one that is ruffled evenly all around. The ruffles, or crimps, were made with a special hand tool. A bowl that is double-crimped has these same even ruffles, but is also shaped with another hand tool that makes larger, uneven crimps around the edge.
¢
The Kovels answer as many questions as possible through the column. By sending a letter with a question, you give full permission for use in the column or any other Kovel forum. Names and addresses will not be published. We cannot guarantee the return of any photograph, but if a stamped envelope is included, we will try. The volume of mail makes personal answers or appraisals impossible. Write to Kovels, (Lawrence Journal-World), King Features Syndicate, 300 W. 57th St., New York, NY 10019.
Copyright 2018 The Lawrence Journal-World. All rights reserved. This material may not be published, broadcast, rewritten or redistributed. We strive to uphold our values for every story published.