Marine Gunnery Sgt. Eric Sheppard's opinion of Lawrence changed Friday.
Sheppard, a 13-year Marine veteran, was impressed to see more than 200 people - nearly all Marines - show up at Kansas University's Dole Institute of Politics to celebrate the Marine Corps' 231st birthday.
"To see the support we have here today changed my view a lot of about Lawrence, to be quite honest with you," said Sheppard, 32, of LaGrange, Ga. "I have said I felt more at home in the streets of Iraq than I did in the streets of Lawrence."
Sheppard, who became assistant Marine officer instructor in Kansas University's Navy ROTC program six months ago, said he thought that area residents "weren't really excited about what it is we're here to do."
There were no anti-Marine glares at this party, however. A large birthday cake was cut with a sword and the first piece was served to Charles Laskowski, a 90-year-old Lawrence man who joined the Marines in 1937 and served in World War II and the Korean War.
The second piece went to Lance Cpl. Jordan Alley, 20, who was the most recent Marine recruit in attendance, having joined in July 2005.
"This is very cool - very cool," said Alley, of Overland Park. "It's fun to talk to some of these old guys and just hear some of the things they've done."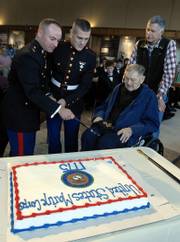 Laskowski has been to several of the Lawrence Marine birthday parties over the years. He said he felt confident in the state of the Corps after seeing the attitude of the young Marines serving during today's time of war.
"That's the way I was 69 years ago," he said.
David Ballentine said he also liked to "look in the eyes of the new guys" and know that the Corps is in good hands.
"It makes us feel good about what the tomorrow for our institution is going to look like," the 66-year-old Overland Park Vietnam veteran said. "It's an institution and it's going to be associated with the best that this nation has to offer."
The Marines celebrate their Corps' birthday the day before Veterans Day. Current and retired Marines said they came to the celebration to reflect and enjoy the camaraderie they share with one another.
"We come here to be with each other and remember our brothers who can't be here today," said Vietnam veteran John Musgrave, 58, of Baldwin.
Curt Bennett didn't think the Vietnam War was necessary nor did he agree with invading Iraq. But Bennett still flew Marine jet bombers in Vietnam and he still celebrates the Marine birthday.
"It's a part of you," the 64-year-old Lawrence man said of being a Marine. "We're coming back to be reminded of what we once were."
The gathering of Marines sang the Marine's Hymn along with a Lawrence High School choir. They heard a video message from retiring Marine Commandant Gen. Michael Haage, who said "rededicate yourselves to our bedrock of honor, courage and commitment."
Capt. Tom Arnold, commander of KU's Navy ROTC, also said Marines should remember their heritage and the ideals of their service.
Chief Warrant Officer Donn Dunkle, who has served nearly 25 years in the Marines, said he has celebrated the Corps' birthday in places like Okinawa, Iraq and Korea.
"It's a time-honored tradition," Dunkle, 42, of Lawrence, said. "No matter where we are at, some how, some way, we stop and honor the Marine Corps' birthday."
Retired Lt. Col. Erv Hodges, former Lawrence mayor, said there had been an increase in attendance during the past few years.
"We seem to get more and more each year," he said.
Copyright 2018 The Lawrence Journal-World. All rights reserved. This material may not be published, broadcast, rewritten or redistributed. We strive to uphold our values for every story published.